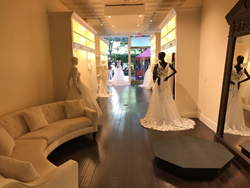 San Jose, California (PRWEB) July 19, 2017
Fashion designer, Mimi Tran, is unveiling her first brick and mortar boutique on the upscale street of Santana Row in San Jose, California, this Saturday, July 22 beginning at 6pm. The store is featuring her notable SS17 and AW17 evening wear lines, as well as her recently launched 2018 bridal line. To date, the designer has released nine of her famed bridal couture gowns online, and with this event attendees will now be introduced to the remaining pieces.
The new store will have on hand Mimi's current collections, as well as additional custom pieces, and price points range from approximately $250-$10,000. The boutique will also feature bridal accessories from other designers that not only pair well with Mimi's collections, but are also on brand with the Mimi Tran customer.
The space boasts stunning white walls, new doors, and hard wood floors that not only appeals to the luxury clientele, but also aligns with the streets posh stores. With a floor plan that includes 1,179 square feet, spacious dressing rooms, a vanity, and an LED big screen looping the label's fashion shows on the wall near the desk area, is an environment that speaks to the Santana Row shopper, which is also home to other brands such as Gucci, Boutique Harajuku, Anthropologie, Sephora, Kate Spade New York, Madewell, Tesla, and H&M.
Besides Mimi's passion for fashion, she opened her own free standing store in an effort to be closer to her customers, offering a more hands on custom approach to satisfy unique customer requests. According to the designer, "We opened the store on Santana Row because we wanted to position ourselves in a high end area, and since the street is close to home, we're able to respond to our clienteles requests much faster, earning their trust and building closer relationships with the area and our customer base." The store will also operate as a Northern California showroom, offering access to local celebrity stylists interested in dressing their clients for regional events. Additionally, the space will operate as a design studio for Mimi to continue to push the label to the next level and set new trends, creating pieces for future collections and runway shows.
In recognition of the new store, Mimi will host a launch party that's open to the public at 377 Santana Row, STE 1105, San Jose, 95128 CA, on Saturday, July 22nd, 2017. Guests will be treated to live music from 6pm-8pm by the Marshall Law Band, and from 8pm-8:45pm attendees can witness the magnificence of Mimi's designs with a fashion show.
About Mimi Tran
The Mimi Tran brand empowers today's woman by producing apparel in contemporary styles designed to enhance her beauty and celebrate her femininity. The brand is committed to using luxuriant materials combined with superior construction to create garments that not only make her look elegant on the outside, but also make her feel sophisticated, and self-assured on the inside. Learn more at http://www.mimitrandesign.com.