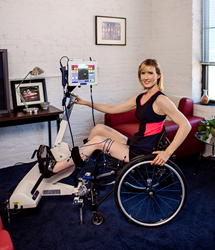 Wide Pulse FES will make FES cycling possibe for a wider range of patients with a neurological impairment
Baltimore, MD (PRWEB) July 19, 2017
Restorative Therapies, Inc., advances its new era in physical and occupational therapy systems for neurological injury and paralysis with FDA marketing clearance of Wide Pulse Functional Electrical Stimulation (WP-FES) for the company's RT300 cycling system.
Restorative Therapies is the designer of medical devices providing clinic and in-home therapies for people with neurological impairments. RT300 is the company's hugely successful FES cycling system which has become the standard of care in leading neurorehabilitation clinics and for patients at home.
FES is a physical and occupational therapy modality used to evoke functional movements and exercise not otherwise possible for individuals with a neurological impairment such as a spinal cord injury, stroke, multiple sclerosis or cerebral palsy.
This FDA 510(k) marketing clearance allows Restorative Therapies to commence marketing RT300 systems incorporating the new WP-FES functionality in the USA. WP-FES provides clinics and patients with two key benefits. Wider stimulation pulses (up to 3,000 microseconds) help recruit muscles in many patients who are normally less or not responsive to standard FES allowing them to gain the many benefits associated with RT300 cycling. WP-FES allows clinics to implement the new therapy techniques being developed by the Christopher & Dana Reeve Foundation's NeuroRecovery Network® (NRN).
This new clearance also allows RT300 to be marketed for neuromuscular reeducation in addition to its existing indications. Neuromuscular reeducation is the use of FES for the purpose of improving impaired movement, balance, coordination, decreased kinesthetic sense, and impaired proprioception.
"FDA clearance of WP-FES is the first enhancement of FES parameters cleared by the FDA since 1984." says Andrew Barriskill, CEO of Restorative Therapies. "This development will help to make FES cycling effective in a wider range of patients and help to facilitate clinical use of the latest therapy techniques improving outcomes for patients."
"RT300 is the only FES cycling system that offers WP-FES and neuromuscular reeducation." Says Judy Kline, marketing manager at Restorative Therapies. "These significant product and therapeutic advances will help to ensure RT300's leading position in the neurorehabilitation market"
RT300 WP-FES is the latest result of Restorative Therapies commitment to ongoing development of FES powered physical therapy systems designed to help people with neurological impairments maximize their recovery potential.
About Restorative Therapies
Restorative Therapies mission is to help people with a neurological impairment or in critical care achieve their full recovery potential. Restorative Therapies combines activity-based physical therapy and Functional Electrical Stimulation as a rehabilitation therapy for immobility associated with paralysis such as stroke, multiple sclerosis and spinal cord injury or for patients in critical care.
Restorative Therapies is a privately held company headquartered in Baltimore. To learn more about Restorative Therapies please visit us at http://www.restorative-therapies.com