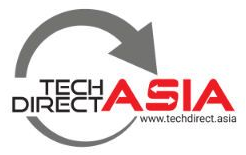 Singapore, Singapore (PRWEB) July 19, 2017
TechDirect.Asia (http://techdirect.asia/) is pleased to announce onsite diagnostic services for selected out-of-warranty products.
"TechDirect.Asia acknowledges that by servicing out-of-warranty products, we are helping to reduce e-waste and improving the longevity of still-useful laptops, desktops, printers and monitors. At the same time, we're helping companies save on unnecessary expenditures." says Chief Marketing Officer Sharon Chin.
"To use the service, you will need to arrange a time, at your convenience, on the website and select either for your item to be picked up or to be dropped off by you. Should you choose the pick-up service, there is a fee of $25 for transportation charge, one way, but diagnosis of the electronic device is free. Of course, if you choose to drop it off yourself, then there will be absolutely no charge. However, should parts be needed and a repair desired by the client, the technician will discuss the next steps and associated costs," explains Chin.
"Electronics are a part of our daily lives, and the rate at which new ones are introduced into the market is astounding," comments Chin. "Warranties expire quickly, even though these products can function well for years. Our service helps individuals and companies control costs, and help them get the most use and longevity out of their products."
To learn how you can get your out-of-warranty laptop, desktop, printer or monitor diagnosed, visit: http:techdirect.asia/repair/repair-and-service-diagnostic-757.html. To learn more about the company, visit http://www.techdirect.asia/about.
About TechDirect.Asia
The launch of TechDirect.Asia further broadens Altostratos' offering to its global IT customers, by enhancing the ability of global IT brands to reach their enterprise and small-and-midsized business (SMB) customers in Asia via a one-stop e-commerce channel that complements the brands' offline sales channel strategies and online presence. Recognising that business and corporate buyers have different needs compared to consumers, TechDirect.Asia helps buyers get complete visibility across solutions, along with a holistic, unified view of the path-to-purchase.
Contact Details:
TechDirect.Asia
Infonet System & Services Pte Ltd
(a member of the AltoStratos Group)
Singapore
Phone: +65-6816 5656
Source: TechDirect.Asia