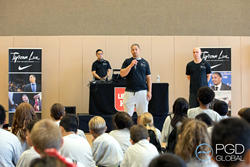 "My mother is a two-time breast cancer survivor and I'm thankful that with the help of the NBA, Nike, Impact Basketball and Life Time Athletic we are able to support a cause very close to my heart." - Tyronn Lue, Head Coach of The Cleveland Cavaliers
Las Vegas, NV (PRWEB) July 19, 2017
On Tuesday July 18, Tyronn Lue, Head Coach of The Cleveland Cavaliers hosted a youth clinic at Life Time Athletic Green Valley, a health club in Henderson, Nevada in support of a cause near to his heart. With the assistance of NBA Cares, Life Time Athletic, Nike, Impact and PGD Global, Lue conducted a youth experience that brought together 100 youth participants that included exclusive gifting, skills and performance lessons, leadership discussions and personal coaching from Lue.
"I'd like to thank everyone here today for this special experience. My mother is a two-time breast cancer survivor and I'm thankful that with the help of the NBA, Nike and Life Time Athletic we are able to support a cause very close to my heart," said Lue during his closing remarks. "Having the Boys and Girls Club of Southern Nevada here is also special, we have been planning for this experience for some time and I'm grateful we are all here today."
Key partners for the clinic include PGD Global, Life Time Athletic, NBA Cares, Nike, Impact Basketball and Nestle Waters.
The clinic included a special DJ performance during skills training, exclusive Nike gift bags, lunch provided by Life Time Athletic and a personal one-on-one signing and picture session post-clinic. Lue made sure to sign every NBA Cares shirt for each youth attendee and graciously spent time with event volunteers and staff after the event had completed.
"We had a wonderful day today, Mr. Tyronn Lue brought tremendous joy and excitement to our facility," said Alex Gruin, General Manager of Life Time Athletic. "We are looking forward to having Coach Lue back and growing the event, everyone truly enjoyed the experience and his kindness and generosity."
For more information on Tyronn Lue Fantasy Youth Clinic and Experience please visit http://www.tyronnlue.com or contact PGD Global info@playgolfdesigns.com
ABOUT TYRONN LUE
Tyronn Lue is a two time NBA Champion (2000 & 2001 with the Los Angeles Lakers). Tyronn, a native of Mexico, Missouri, was voted to the First Time All Big 12 in 1998 during his tenure as a point guard at the University of Nebraska. Lue was drafted that same year as the 23rd overall pick and would go on to spend 11 years in the National Basketball Association. Tyronn Lue is embarking on his third season as the Head Coach of the 2016 NBA Champion Cleveland Cavaliers. For more information please visit http://www.tyronnlue.com or email info@playgolfdesigns.com
ABOUT PGD GLOBAL
Play Golf Designs, Inc. (PGD Global) is a golf marketing & event company, directing and participating in luxury events for some of the world's most legendary athletes, brands, entertainers and organizations including Coach Mike Woodson, Julius "Dr. J" Erving, Chris Tucker, Jeffrey Osborne, Viacom, The Broadcasters Foundation of America, Diageo and MGM Resorts International. PGD blends pop culture and entertainment, creating the most unique, innovative golf events and experiences for each client. PGD Global focuses on celebrating diversity and inclusion in golf while welcoming women to the game with open arms. Visit the official website at http://pgdglobal.com/. Tweet or Instagram @PGDGlobal or Facebook http://www.facebook.com/PlayGolfDesigns
ABOUT LIFE TIME ATHLETIC
Life Time® Healthy Way of Life
Life Time® is a privately held, comprehensive health and lifestyle company that offers a personalized and scientific approach to long-term health and wellness. Through its portfolio of distinctive resort-like destinations, athletic events and corporate health services, the Healthy Way of Life Company helps members achieve their goals everyday with the support of a team of dedicated professionals and an array of proprietary health assessments. As of June 8, 2017, the company operates 127 centers in 27 states and 35 major markets under the LIFE TIME FITNESS® and LIFE TIME ATHLETIC® brands in the United States and Canada. Twitter and Instagram @lifetimevegas