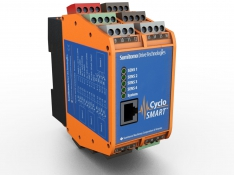 Chesapeake, VA (PRWEB) July 25, 2017
Many different facilities, in a variety of proactive industries, are becoming more reliant on maintenance to keep their equipment running optimally. The CycloSmart™ PdM technology provides time and cost savings, making reliance upon estimations, and the costly consequences, a thing of the past .
CycloSmart™ is a condition monitoring system that allows user to deploy a predictive maintenance strategy. It notifies users—via local alarm or network connectivity—if the machine needs attention. Reducers in many applications, operate 24 hours a day; so having a 24/7 monitoring system is key.
With CycloSmart™, the risk of catastrophic failures, to the customer, is minimized. The vibrations produced by the gearbox triggers an alarm in a PLC system (or similar) indicating the deterioration of the unit. Users also have the capability to create a system using color-coded levels to monitor the equipment. CycloSmart™ increases optimization with its early diagnostics, enabling customers to schedule downtime for the proper maintenance of their facility. It also stores a rolling history so users can research what happened in the life cycle of a reducer with a time and date stamp. Sumitomo Machinery Corporation of America (SMA) continues to develop product features that will increase the efficiency of your reducer, which will extend its overall life cycle.
CycloSmart™ is available for Cyclo® products including: Cyclo® Bevel BuddyBox 4 (Cyclo® BBB4), Cyclo® Bevel BuddyBox 5 (Cyclo® BBB5), Cyclo® Helical BuddyBox (Cyclo® HBB), Cyclo® 6000 series, and Cyclo Overhead Drive. It is also available for HSM, Hansen, and Paramax®.
If you have any questions regarding CycloSmart™, please reach out to Adam Soder at adam.soder(at)shi-g.com.