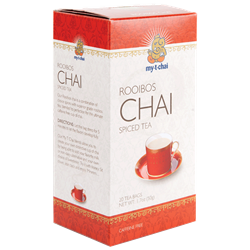 "This was a fun and productive conference," said Chaimowitz. "Any time we have an opportunity to show people our wonderful products, we take advantage of it."
Boca Raton, FL (PRWEB) July 20, 2017
My T Chai, a South African company that creates a popular line of natural chai tea, met with major industry players at the recent Weight Management, Sports Nutrition and Vitamin Efficient Program Planning Session (EPPS) in Chandler, Arizona.
Representatives from My T Chai showed off the benefits of their popular products to a group representing influential retail buyers in the American market. The event took place from June 25 to 28 and provided an opportunity for the company to strengthen bonds with retail buyers.
"Participating in Arizona EPPS was such a thrill for everyone involved," said Michael Chaimowitz of My T Chai. "We continued to forge crucial business relationships for expanding our market reach with partners from around the United States. We received an overwhelmingly positive response from retail buyers who were impressed with our unique products."
Chai tea has existed for thousands of years, initially starting in India and Siam and then spreading throughout Asia and Africa. The recipes that exist today have the same flavor characteristics of the chai teas of old, but now there are many variants from region to region. The My T Chai teas, for example, contain many ingredients grown locally in South Africa.
The company started small, growing out of a small family kitchen, where they brewed tea for friends and relatives. Slowly, they grew their chai home into a chai kingdom by offering healthy alternatives to what was already on the market. With no artificial preservatives or flavorants, My T Chai's products promise to deliver wholesome and natural tasting products.
One example of My T Chai's amazing flavors is its Chocolate Chai, a bespoke blend of classic antioxidant-rich rooibos with chai spices and cacao, giving you a delicious hint of decadence. Tea enthusiasts should let this bag steep for five minutes to allow the flavors to fully develop. It is particularly tasty with milk and a sweetener.
"This was a fun and productive conference," said Chaimowitz. "Any time we have an opportunity to show people our wonderful products, we take advantage of it."
For more information about My T Chai, visit http://www.mytchai.com.