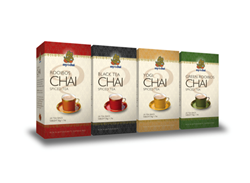 "We want to show everyone in the USA and across the world how tea can be an enriching experience," said Chaimowitz. "Growing our presence online is part of that overall strategy."
Boca Raton, FL (PRWEB) July 21, 2017
My T Chai, a South African company that develops a line of high-quality all-natural rooibos chai teas, has entered into agreements with major retailers, expanding its reach across the USA.
My T Chai has entered into agreements with a variety of brand-name retailers to expand its market reach and find new customers. The company is doing so through seeking relationships with mainstream platforms and those that specialize in nutritional products. Now its high-quality chai teas are available on sites like Jet.com, Amazon.com, StackedNutrition.com, RevNutrition.com and Go4ItNutrition.com.
"Every day, we're seeking out new ways to connect with customers," said Michael Chaimowitz of My T Chai. "Our teas are unique, natural and based in the traditions of Asia. We grow all our ingredients right here in (and) South Africa and never add any artificial flavors or preservatives. We relish the opportunity to spread these tantalizing flavors to a larger audience."
Chai tea is a naturally delicious and soothing beverage that's growing in popularity. My T Chai offers a completely natural product made with only the finest ingredients and designed to help drinkers have a relaxing experience.
The beverage has a deep history and has been a staple of the diets of people throughout Asia and Africa for thousands of years. The tea originated in ancient India and Siam, and today's recipes still feature a very similar flavor to those ancient teas, with some variance across regions. It has strong connections to the Indian natural healing system, Ayurveda, in which spices, herbs and sweeteners are used to cure bodily ailments.
One example of a popular tea created by My T Chai is its Honeybush Chai, which is free of both caffeine and loaded with antioxidants. Ingredients in the tea include honeybush, cinnamon bark, cardamom seed, ginger root, clove pod (bod) and black pepper seed. My T Chai recommends people heat up the cup and leave the tea bag in for as long as possible to get the spiciest, strongest drink. It can be served with or without milk, and is often made even better with a little bit of honey.
"We want to show everyone in the USA and across the world how tea can be an enriching experience," said Chaimowitz. "Growing our presence online is part of that overall strategy."
For more information about My T Chai, visit http://www.mytchai.com.