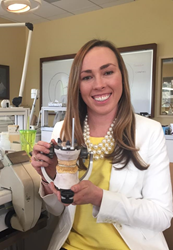 Upper St. Clair, PA (PRWEB) July 19, 2017
Karen L. Johnson, D.D.S., a practicing dentist in Upper St. Clair, PA, recently attended The Pankey Institute in Key Biscayne, FL where she continues to refine her dental care through advanced education. During the five-day course, Dr. Johnson studied the determinants of occlusion, or a patient's bite. She also received detailed guidance on restorative treatment planning and procedures, allowing her to better blend form and function for her patients.
As she strives to achieve excellence to provide her patients with the best possible level of care, Dr. Johnson returns to Upper St. Clair, Pennsylvania where she focuses on restorative dentistry. She graduated from University of Michigan Dental School and now practices at South Hills Dental Arts.
Dr. Johnson and her team at South Hills Dental Arts, Drs. Steven Crandall and Kathy Lopez, are dedicated to offering the latest restorative dentistry and occlusion therapy using modern technology. To help them achieve their goal, they enroll in numerous CE courses each year. The doctors at South Hills Dental Arts follow the Pankey Institute philosophy that "form follows function," which means that restoring proper dental function is of primary importance when developing patient treatment plans.
Founded in 1970, The Pankey Institute is a nonprofit educational organization dedicated to helping dental professionals master advanced technical skills, improve behavioral skills, and nurture a positive philosophy towards life and practice. It was the first institute of its kind and remains among the most prestigious in the world, attracting dentists from more than 40 nations. Over 21,000 dentists, dental laboratory technicians and specialists have attended its courses and now serve millions of patients worldwide.
Patients in need of restorative dentistry or occlusal therapy are encouraged to receive treatment from a Pankey Institute-trained dentist in Upper St. Clair, PA. Dr. Johnson and her team offer leading restoration services using the latest treatment and technology at South Hills Dental Arts. To schedule an appointment, patients are encouraged to call the Upper St. Clair South Hills Dental Arts' location at 412-833-6166.
About the Practice
South Hills Dental Arts offers individualized dental care to patients in the Upper St. Clair, PA and Pittsburgh, PA areas. Dr. Steven Crandall, Dr. Karen Johnson and Dr. Kathy Lopez offer experienced dental implant, TMJ, and Invisalign® treatments along with a wide variety of other services at their two office locations. The entire team at South Hills Dental Arts, understand the importance of learning the most cutting-edge treatment techniques to ensure each patient receives effective and comfortable treatment. To learn more about Dr. Crandall, Dr. Johnson and Dr. Lopez or the services they offer, please visit their website at http://www.southhillsdentalarts.com. To schedule an appointment at their Upper St. Clair office call 412-833-6166 or 412-922-9292 for the Ingram Crafton office location in Pittsburgh, PA.