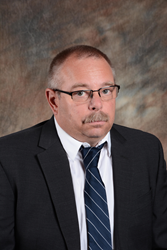 We are thrilled to welcome Russ to our team of best- in-class firearms experts. His deep knowledge, combined with passion for research, accuracy, and collaboration, makes him a strong fit for Morphy's. - Dan Morphy, President, Morphy Auctions
Denver, PA (PRWEB) July 20, 2017
Morphy Auctions today announced that Russ Withem has joined the company as a Firearms Expert in the company's Firearms and Militaria Division. This new position was created in response to Morphy's emerging leadership in these important categories - demonstrated most recently by the company's June, 2017 $3.3 million firearms sale. Withem will be responsible for identifying and valuing merchandise, cataloging, developing consignment networks, and representing Morphy's at 30-40 trade and industry events annually.
Withem received his first gun at age 12. Today, he has more than 40 years of experience collecting, appraising, and buying and selling firearms and sporting collectibles, including WW1 German militaria. Withem has deep expertise with Luger pistols, Winchesters, and Colt revolvers. He has contributed to several published books, including History Writ in Steel German Police Markings 1900-1936 (Thai Watana Press Co., Ltd., 2009); Simson Lugers: Simson & Co, Suhl, the Weimar Years (Brad Simpson Publishing, 2007); and Police Lugers: German Police Lugers and Their Markings 1918-1958 (Golden Belt Printing Inc., 2012) and is currently working on a book about the Colt 1877 DA. Withem is a member of the Winchester Collectors Association and the Colt Collectors Association. Prior to Morphy's, Withem owned and ran a firearms store in Southern Oregon.
 
According to Dan Morphy, President of Morphy Auctions, "We are thrilled to welcome Russ to our team of best- in-class firearms experts. His deep knowledge, combined with passion for research, accuracy, and collaboration, makes him a strong fit for Morphy's." Withem adds, "I am certain that my will help to grow Morphy's Firearms and Militaria division as well as its national visibility. I joined the team for its great reputation and to handle higher end firearms on the East Coast. The division's next sale is scheduled for November 3-5, 2017 and I look forward to reviewing potential consignments for this auction."
About Morphy Auctions:
Morphy Auctions, the finest auction destination for fresh to the market collectibles, is headquartered in Denver, PA. The company also has a satellite office in Las Vegas, NV. A full-service auction house, Morphy's presents over 35 premier auctions annually. The company's three-part mission includes ensuring consignor satisfaction with every auction, offering world-class customer service that goes above and beyond the call of duty, and providing relentless buyer support to create confidence for all clients seeking a trustworthy purchasing experience.
Morphy's team of specialists includes the nation's finest and most recognized experts in popular collecting categories including advertising; firearms; fine automobiles, automobilia and petroliana; coin-operated machines; antiques, fine, and decorative art; dolls, bears, toys, and trains; cast iron; coins; marbles; jewelry and wrist watches. Morphy Auctions is owned by President and Founder Dan Morphy, himself a lifelong and passionate collector of antiques, banks, and numerous other categories.  Morphy's has been in business since 2004 and has grown from two to over 65 employees in over a decade.
Morphy Auctions is located at 2000 North Reading Road, Denver, PA 17517.  We can be reached by phone at 877-968-8880, by fax at 717-336-7115, and by email at info(at)morphyauctions(dot)com.  We are open 7 days a week: Mon-Fri from 9am-4pm and Sat and Sun from 9am-1pm.  For more information, please visit http://www.MorphyAuctions.com.