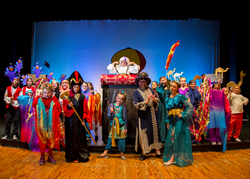 We were so proud of how all the kids worked as a team, grew to love and support each other.
Henderson, Tennessee (PRWEB) July 19, 2017
A local summer theatre camp is celebrating a successful second year with a larger audience and increased funds raised to support fine arts programs in Chester County's Elementary Schools. In late June, students gave two evening performances of "Disney Aladdin Kids" in Freed-Hardeman University's Loyd Auditorium.
More than 850 people attended the two performances, an increase from the first year, when 384 people viewed a one-night performance of "Disney Lion King Kids." Through 18 corporate sponsorships and tickets sales, this year's event raised $5,100 for elementary arts in Chester County, which built on $2,200 raised last year.
The show's director, Becky Hartle, said the success of this year's play created interest in offering a fall production for Chester County Middle School students. Hartle will direct the fall play —"Law and Order: The Fairy Tale Unit."
"I think it is very likely that I will be seeing many familiar faces from our camp in the upcoming fall play," Hartle said. "Some might come for the experience of being in a play again, but I think some might also come because they miss the bond that we created this summer."
Forty students participated in the summer theatre camp this year — an increase from 26 students in last year's inaugural camp. This summer's cast was a mix of newcomers and returning students.
Siblings Luke, Ella and Emma Noles participated in the camp. Luke was cast as Jafar, the villain of the story. In last year's production he was young Simba. "This was my first time playing a bad guy, and I enjoyed playing a different role," Luke said. Ella Noles was cast as Jasmine. In last year's "Lion King", Ella was Zazu. "It's always been my dream to fly and I loved flying on a magic carpet," she said. "It was fun learning to sing 'A Whole New World' with Ms. Lauren." While Luke looks forward to serving on the technical side of next year's summer theatre camp, his sisters are ready to participate in the show. "I'm super excited and can't wait for next year," Emma said.
After starring as the older Simba and Timon in last year's production, Hunt Pipkin and Eden Burleson returned to the stage as Aladdin and Genie. "I wanted to be the Genie because it was really fun," Burleson said. "And it was funny that someone so small got to be Genie." Pipkin liked the costumes, songs and making friends. "We had to practice more because there were more lines, but it was fun," he said.
Parents expressed pride in not only their children, but the entire cast as well. "It's truly amazing what they accomplished in two weeks," Joe and Ramay Noles, the parents of Luke, Ella and Emma, said. Hunt Pipkin's mom, Lee, also praised the program. "We're so grateful that the children of Chester County have this opportunity," Pipkin said. Doug Burleson, Eden's father, added, "We were so proud of how all the kids worked as a team, grew to love and support each other." Burleson also complimented the staff for making the production a success. "This was an amazing experience for our community," he said.
The Henderson Arts Commission (facebook.com/HendersonArtsCommission) and Freed-Hardeman University (fhu.edu) served as co-producers of the show. The summer camp theatre experience is an intensive, two-week program that requires students to learn their lines, music and choreography for the selected play.