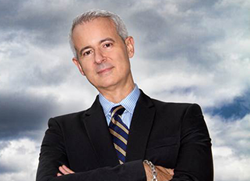 You should always look at one-way fares and sign up for airfare alerts by email or on Twitter using #airfare
New York, NY (PRWEB) July 20, 2017
Everyone seems to have a "secret" for finding the best airfares or securing the ever-elusive award ticket or upgrade. Whether it's searching for tickets on Wednesday mornings after midnight or flying off-peak hours, one thing is for sure, nothing is guaranteed. However, there are several things travelers can do to drastically improve their chances of finding what they want and most experts agree on a handful of actions and activities to improve those odds. ExpertFlyer.com recently went One-on-One with George Hobica, renowned travel expert and founder of Airfarewatchdog.com, a service that alerts consumers to amazingly low airfares and helpful travel advice, to discuss how his organization helps travelers find the best fares, and get a few tips for securing an upgrade. The complete video interview with George Hobica can be seen at ExpertFlyer's blog.
Believe it or not, most airline flights have as many as 26 different fares prices (buckets) with only a few seats available at each fare level. If searching for more than one ticket and you want the best possible price, Hobica recommends searching for one ticket at a time to identify the lowest available fare. "If you search for two tickets and there is only one seat available in the lowest fare bucket, the airline will not reveal the availability of that last single lowest-cost ticket. The algorithms are set to show you the lowest fare bucket available based on the number of tickets you requested, which in this scenario is two tickets," he explains. He also suggests looking at one-way fares and traveling outbound on one airline and returning on another. "You should always look at one-way fares and sign up for airfare alerts by email or on Twitter using #airfare. Twitter is a great place to search and find special deals." Subscribing to airline newsletters (typically free) is another way travelers can get a jump on special fares since many airlines share this information with subscribers before making them public on their websites.
To find an upgrade, according to Mr. Hobica, travelers will need a few reward miles, decent threads, and a great attitude. "On a recent trip from L.A. to JFK, I spent 15,000 reward miles and $75 for an upgrade that had a value of about $375," he recalls. Another tip is to check the airline kiosks at check-in. Oftentimes the airline will offer an upgrade for about $100, especially with shorter flights. Mr. Hobica also confirmed that wearing appropriate attire when flying does work and recalls receiving an upgrade on United, an airline he did not have frequent flyer status with, simply because he was "dressed sharp."
And good behavior is often rewarded by the airline flight crew. "There was a seating problem in economy class on an American Airlines flight and a young adult happily accommodated another passenger who was making a fuss. There was one seat left in Business Class, next to me, and they gave it to the young man, which was impressive considering the passenger making the fuss was an American Platinum member."
"George Hobica is one of the most respected travel writers and industry experts in the business and his insight to airline travel is a benefit to anyone who flies, from the road warrior to the novice," said Chris Lopinto, president and co-founder of ExpertFlyer.com. "Airfarewatchdog has become one of the best travel resources for finding the best fares and understanding the ins-and-outs of airline travel in laymen's terms."
To watch the full interview with George Hobica from Airfarewatchdog, visit ExpertFlyer's blog.
About George Hobica
George Hobica is the president and founder of Airfarewatchdog.com. A long-time travel expert, George also writes travel articles for various publications and websites while acting as spokesperson for Airfarewatchdog and working with a dedicated team of fare analysts, product managers, designers, and IT people at TripAdvisor subsidiary SmarterTravel to make Airfarewatchdog.com the best at what it does: alert consumers to amazingly low airfares and helpful travel advice.
About ExpertFlyer.com
Each month, ExpertFlyer's One-on-One blog goes face-to-face with the travel industry's leading decision makers to discuss and address topics relevant to many of today's business and frequent travelers.
ExpertFlyer.com was conceived and created by an eclectic team consisting of a veteran elite tier frequent flyer, an airline captain and corporate travel manager, and information technology professionals to deliver a 24/7 real time powerful air travel information service. The company provides its subscribers and corporate travel managers alike with a complete, concise and efficient way to access the ever-changing details of worldwide air travel information. For more information, please visit expertflyer.com.
Stuck in the middle seat again? Download the free Seat Alerts app from ExpertFlyer and get the window or aisle seat without hassle or frustration.
# # #