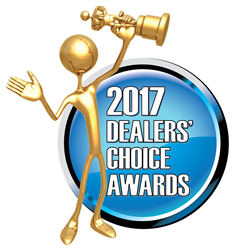 Davenport, IA (PRWEB) July 21, 2017
The winners of the 2017 Dealers' Choice Awards were announced by Auto Dealer Today, and ProMax once again won 3 Diamond Awards. Last year ProMax became the first company in the 12-year history of Dealers' Choice Award voting to win three 1st place trophies in a single year. ProMax took home the top awards for Desking, Customer Relationship Management (CRM), and Direct Mail, continuing their unparalleled history of success in the award voting. The ADT Dealers' Choice Awards represent the industry standard of excellence, and are chosen based on votes cast by auto dealership personnel.
ProMax won the industry's top award for F&I Desking software for the 7th year in a row. "For over twenty years now we've been known for our industry-best Desking solution, but being voted #1 by dealers year in and year out is the truest form of recognition," said ProMax CTO Darian Miller. "We started out mainly as a Desking tool, and a lot of companies have come and gone over the past few decades as we continued to grow stronger."
2017 also marks the 7th year in a row that ProMax won an award in the CRM category, and the 2nd consecutive first place finish. "We're honored to win the Diamond Award for CRM for the second year in a row," said ProMax COO Shane Born. "We continue to expand functionality, particularly to our mobile platform, and dealers definitely like the direction we're going in." ProMax's Customer Relationship Management module includes Lead Management, Email Campaigns, Texting, and more.
ProMax, while widely known as a Desking and CRM provider, is also strong in several other areas such as Dealer Websites and Direct Mail. The Diamond Award for the Direct Mail category has now gone to ProMax four years in a row. "Our mail solution is another example of how our diverse suite of products work in concert to help dealers sell cars," said Scott Smith, Senior VP of Dealer Websites & Marketing Solutions. "Instead of having one company for CRM, one for Desking, one for Mail, etc., ProMax enables dealers to skip all the hassles of integrating various systems and dealing with multiple different companies' customer service reps. At ProMax, it all comes together for the dealer's benefit."
ProMax Founder and CEO John Palmer was justifiably proud of his company's unique achievement. "In 2016, we became the first company in the 12-year history of the Dealers' Choice Awards to win three Diamond Awards in one year, and we worked very hard to achieve a repeat. We are one of few companies to offer a complete front-end solution to auto dealers, and our recognition across the categories illustrates our commitment to helping dealers succeed in every way possible."
Tariq Kamal, Associate Publisher of Auto Dealer Today, highlighted ProMax's unique achievement: "Three Diamond Awards in one year is an impressive feat. Three Diamonds in consecutive years is extraordinary. ProMax has clearly proven its value to auto dealers nationwide." ProMax will be attending Auto Dealer Today's annual Industry Summit, September 11-14 in Dallas, Texas.
ABOUT THE AUTO DEALER TODAY (ADT) DEALERS' CHOICE AWARDS: The Auto Dealer Today awards represent the industry standard of excellence. They have been awarded for twelve years and are based solely on votes cast by dealers and dealership personnel. Dealers rate companies based on the product or service it provides, customer service, the overall value of the product or service, and if they would be willing to recommend the provider to another dealer. The awards serve as the premier forum for dealers looking for new product and service providers. Learn more about Auto Dealer Today at http://www.autodealermonthly.com.
ABOUT PROMAX
Dealer Marketing Services, Inc. was formed in 1994 by John Palmer. In August of 1995, ProMax was introduced as a Special Finance software solution. In 1998, the software was expanded to handle all types of desking including new and used vehicle leasing, CRM, finance menus, inventory management, reports, and credit application submissions to lenders. In 2002, ProMax was introduced as the industry's first Internet-based full front end solution and today is used by over 2,000 automotive dealerships. The ProMax internet application integrates with dealership DMS systems and can be used effectively in large dealer group situations as well as single location dealerships. Dealer Marketing Services, Inc. also provides credit bureaus, website development and hosting, internet leads, and direct mail services to help dealerships increase traffic. Learn more about ProMax and Dealer Marketing Services, Inc. at http://www.ProMaxUnlimited.com.