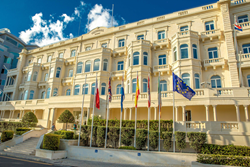 I am convinced that both the current and prospective business relationships should form the basis of any sound risk based approach
(PRWEB UK) 20 July 2017
Directive (EU) 2015/849 on the prevention of the use of the financial system for the purposes of money laundering or terrorist financing entered into force on 26 June 2015. This Directive rightly recognises that the risk of money laundering and terrorist financing can vary and that Member States, competent authorities and organisations must identify and assess that risk with a view to manage it.
Dr. Claude-Anne Sant Fournier, Head of Compliance at Pilatus Bank, explains that the tone set in the executive summary of the Final Guidelines on Risk Factors published by EBA, ESMA, EIOPA and the Joint Committee of the European Supervisory Authorities on 26 June 2017 is faithfully sustained throughout the document. Interestingly, the Final Guidelines guide the reader as follows: "Neither these guidelines nor the Directive's risk-based approach require firms to refuse to enter into, or terminate, business relationships with entire categories of customers that are associated with higher Ml/TF risk." Although the IV AML Directive is meant to bridge the gaps in implementation at Member State level, the true testament of its success depends on the transposition of the risk based approach at the national level which will inevitably include domestic variances particularly in practice.
The element of proportionality features in more than one instant since a risk based approach truly means focusing one's energy where it is really needed. Consequently, the business-wide risk assessment conducted by the organisation should be more targeted and focused based on certain risk factors. The institutions are expected to assess the risks associated with the products or services offered by them , the jurisdictions in which they operate in, the customers they attract as well as the delivery channels used to service their customers. This approach becomes even more relevant in a world where organisations might be seen or at times judged, rightly or wrongly, for the actions of those with whom they do business.
Since the objective of the risk based approach is to identify and assess the risk of money laundering and terrorist financing with a view to manage it, it is understandable that an organisation must keep its risk assessment up to date. As the Final Guidelines state that organisations: "must monitor transactions to ensure that they are in line with the customer's risk profile and business with a view to understanding whether the risk associated with the business relationship has changed," Dr. Sant Fournier reiterates, "I am convinced that both the current and prospective business relationships should form the basis of any sound risk based approach."
So, apart from achieving compliance with regulatory requirements, what other benefits can an organisation derive from concluding its business-wide risk assessment? Since an organisation can leverage the conclusions drawn from the business-wide risk assessment and apply that knowledge to its individual business relationships or occasional transactions, one possible response is greater client service. Through a correct application of the risk based approach, applicants for business may find that the on-boarding process feels more bespoke. In a world where everyone and everything feels like it either fits into a pre-set mould or is being carved to fit into one, the assessment and tailor-made treatment should come across as refreshing to an applicant for business, and this gives the private banks, such as Pilatus Bank, an added advantage. Dr. Sant Fournier concludes, "It is in this way that, I believe, the cost which inevitably will be incurred by each organisation in conducting a business-wide risk assessment will ultimately be offset in the long term."
About Us: Pilatus Bank is a leading European regulated bank that specialises in providing private and commercial banking facilities to high net-worth and affluent individual as well as financial institutions. Pilatus Bank leverages cutting-edge technology while providing personalised service. We have made significant investments in information technology to facilitate more effective interaction between bankers and clients and to strengthen their relationships. Gone are the days of multiple emails, phone calls, print jobs and faxes to communicate with clients.