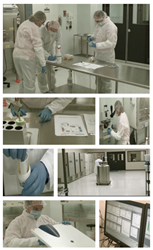 ...there is an underserved market for contract cGMP cell development, manufacturing, and biobanking services - particularly for..small batch production...
Littleton, MA (PRWEB) July 25, 2017
Provia Laboratories announces the launch of new cell development and manufacturing services that are necessary in the preparation and development of human cells and tissues for therapeutic use. Provia's state of the art laboratory and biorepository facility operates under the US Food and Drug Administration's (FDA) Current Good Manufacturing Practices (cGMP) guidelines and provides contract services related to cell therapy research, pre-clinical testing, process development, cell isolation, culture, manufacturing and cryopreservation to the biotech, biopharma and cellular therapy industries.
Provia's cGMP laboratory, combined with extensive experience in sample management and best practices in tissue and biospecimen collection, transportation, processing, and storage, now provides an opportunity to offer contract laboratory services for clinical research and cell manufacturing. This expansion coupled with cGMP processing capabilities, small batch manufacturing optimization, and cryopreservation services are available for pre-clinical proof of concept studies, protocol development and validations round out Provia's offerings to its customers.
Provia's ability to offer customers these services in a regulated environment not only includes added assurance of quality but also provides easier transition of manufactured products for preclinical efforts involved in regulatory filings. By providing proper documentation of process, materials, personnel, and facility Provia intends on supporting its clients through the life cycle of cell-based therapeutic development.
"It is clear that there is an underserved market for contract cGMP cell development, manufacturing, and biobanking services - particularly for programs that require small batch production such as for autologous therapies. Provia's operation, optimized specifically for small batch cGMP production, is well positioned to serve these needs. We have been serving unsolicited demand for these services, but now plan to make these services more broadly available," says Howard Greenman, Chief Executive Officer, Provia Labs.
About Provia Laboratories, LLC
Provia Laboratories, LLC (http://www.provialabs.com) is a healthcare company headquartered in Littleton, MA, which specializes in autologous (cells from you, for you) and small batch stem cell laboratory and biobanking services. Provia's core business is the preservation of mesenchymal stem cells found inside teeth, Store-A-Tooth (http://www.store-a-tooth.com). Store-A-Tooth is offered throughout dental and oral surgery offices throughout the United States and available through partners in Central American and Singapore.