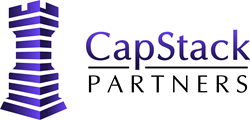 New York, New Yok (PRWEB) July 19, 2017
CapStack Partners ("CapStack") is pleased to announce the creation of its new Investment Advisory platform designed to provide investment management and advisory services to institutions, family offices, and high-net-worth individuals.
CapStack is now capable of offering a wide range of investment advisory services including investment strategy and diligence, asset allocation and portfolio management. CapStack will leverage its deep institutional knowledge of the capital markets and the real estate, infrastructure and energy industries to create tailored solutions that advance its clients' investment objectives. The Investment Advisor platform follows CapStack's membership into the Depository Trust Clearing Corporation as a Fund Manufacturer of alternative investment products. CapStack plans to launch alternative investment vehicles designed to meet the specific needs of its clients.
"There is a growing interest among financial advisors and their clients for specialized alternative investments to complement and diversify traditional stock and bond portfolios," said David Blatt, CEO of CapStack. "Our deep sector specific knowledge and familiarity with the evolving alternative investments landscape uniquely positions us to provide highly informed financial advice, and to tailor fund and managed account solutions for investors to access such investments. Our clients have asked for this capability, and we are pleased to now be able to offer it."
The launch of CapStack's Investment Advisory platform, which will be led by Mr. Blatt, a registered investment advisor, is an organic outgrowth of the firm's broader investment banking and financial services capabilities.
About CapStack Partners
CapStack Partners is a specialty investment bank focusing on the real estate, hospitality, infrastructure and energy industries. Founded and led by capital markets expert David Blatt, CapStack provides a full range of investment banking services including project financing, private placements, mergers and acquisitions, loan syndications, workouts and dispositions, and strategic advisory. CapStack's diverse range of clients include private and publicly traded companies as well as universities, not-for-profit institutions and municipalities. For more information about CapStack, please visit: http://www.capstackpartners.com.
Media Contact:
Jason Chudoba & Brendan Terry
646-277-1249 | Jason.Chudoba(at)icrinc(dot)com
203-682-8212 | Brendan.Terry(at)icrinc(dot)com