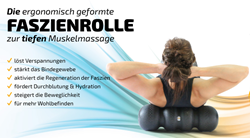 If you live in Europe, I would like you to say hello to Rollga.
Saint Cloud, MN (PRWEB) July 21, 2017
Tim Schmidt, the co-owner of Rollga, announces that Rollga is expanding into yet another country. Rollga is now available in Europe. "If you live in Europe, I would like you to say hello to Rollga." expresses Schmidt. "Rollga is the only cross-directional foam roller, with an omni-directional feel and four zones patented to fit your body." Schmidt explains. Rollga's mission is to restore movement to the world.
"We are grateful for this partnership with Bremermann," says Schmidt, "now we can further our mission to restore movement to people across the globe." Rollga has previously been available in the European market, but Schmidt said the shipments were expensive. Also they would get hung up at the border or lost altogether. Rollga Europe is the key partnership Rollga needed to further the reach around the globe effectively.
Who is behind Rollga Europe? http://www.Rollga.com
Bremermann Vertriebs is a German-based company located in Stuhr. Owner Jan Bremermann & Alan Duong heard about Rollga after a collegue traveled abroad to the United States. During the stay the student acquired a Rollga and returned to Germany with it and showed it to the staff at Bremermann Vertriebs. This was the beginning of a new passion for the Bremermann team. Their team quickly locked arms with the United States and began the process to bring Rollga to Europe. "We are excited to bring the Rollga experience to all of Europe," says Jan Bremermann. Please welcome the Rollga Foam Roller to Europe.
http://www.Rollga.de Download the free Rollga app: Search "Rollga" in any app store.
About Rollga:
Rollga is a cross-directional foam roller designed to stabilize the hips, align the back, and increase range-of-motion. The Rollga foam roller is ideal for muscle recovery, fascial health, and functional restoration of movement. Ordinary foam rollers cause discomfort and pain due to the unfitting design. This groovy foam roller is designed and contoured to fit your body and reach trigger points that are difficult to reach with a traditional flat foam roller. Outside of Europe, Rollga has distribution partnerships established in the United States, Canada, Israel, China and New Zealand.