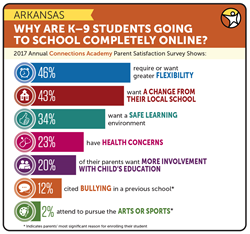 It's a great accomplishment to know that parents with students enrolled in Arkansas Connections Academy are happy with their experience, so much so that they are recommending the school to other families
Bentonville, AR (PRWEB) July 24, 2017
After a highly successful first year serving students, 90 percent of parents with students enrolled in Arkansas Connections Academy (ARCA) gave the online school program an "A" or "B" grade and 93 percent would recommend the program to other families, according to results from the school's 2017 Parent Satisfaction Survey. Arkansas Connections Academy is a tuition-free online public school serving students in grades K-10 across the state.
"It's a great accomplishment to know that parents with students enrolled in Arkansas Connections Academy are happy with their experience, so much so that they are recommending the school to other families," said Principal Darla Gardner. "Not only does it demonstrate that our teachers and staff are doing a great job, but it also gives parents not familiar with virtual education the opportunity to learn more about ARCA from the perspective of families they can relate to."
The 90 percent satisfaction rating for Arkansas Connections Academy stands above nationwide traditional public school scores, in which only 67 percent of public school parents gave the school their oldest child attends an "A" or "B" grade, according to the 47th Annual Phi Delta Kappa/Gallup Poll of the Public's Attitudes Toward the Public Schools*.
The survey not only measures parents' satisfaction with their online school experience but also reveals reasons why families are choosing Arkansas Connections Academy for their children. When asked why their students were going to school completely online, the top responses from families included: 46 percent required or wanted greater flexibility; 43 percent wanted a change from their local school; 34 percent wanted a safe learning environment; and 23 percent of parents cited health concerns. Other families specifically cited they wanted to be more involved with their child's education (20%), bullying concerns (12%), or extracurricular activities (2%) as reasons for enrollment.
Like every school, quality teachers are vital to the school's success. In 2017, 97 percent of Arkansas Connections Academy parents reported satisfaction with the helpfulness of their child's teachers and 92 percent of parents agreed that teachers improved their child's learning experience.
"The teachers this year have been amazing and supportive. I love the curriculum and that it is easy for my children to follow," said Tami Sullivan, Arkansas Connections Academy parent.
To meet stringent state education standards, Arkansas Connections Academy combines a rigorous standards-aligned curriculum with responsive and helpful state-licensed teachers. This year, 97 percent of parents rated the curriculum as high quality and 91 percent of parents agreed they are satisfied with the variety of learning activities provided by Arkansas Connections Academy.
"I like that there are a lot of resources available for your child to take advantage of. The school does a great job giving the students the opportunity to have a very full curriculum, but also plenty of time to seek additional interests," said Christy Smith, Arkansas Connection Academy parent.
Some of the other highlights from this year's survey include:

95% of parents say their child/children are satisfied with ARCA's program
91% of parents agree that their child/children are making good progress at ARCA
93% of parents agree that the use of technology is improving the learning experience
89% of parents agree that their child/children are enjoying the program
Arkansas Connections Academy offers diverse course options for students, including honors courses. The school also offers a broad assortment of clubs, ranging from robotics to gaming to poetry, and is in the process of establishing a National Honor Society.
Enrollment for the 2017-2018 school year is going on now. Free information sessions, parent meetings and other events are taking place across the state for families interested in learning more about Arkansas Connections Academy. For more details visit: http://www.ArkansasConnectionsAcademy.com/Events or call (800) 382-6010.
Survey methodology
Connections Academy conducts the annual Parent Satisfaction Survey to find out how parents, guardians and Learning Coaches grade the program in several key areas. The 2017 survey was conducted from January 17 to March 3, 2017 by Shapiro + Raj, an independent market research company which created the questionnaire, collected the data, and tabulated the results. Parents of all students enrolled at the time of the survey were invited to complete the survey online. A WebMail invitation was sent to each parent, and one response per household was submitted.
*Joan Richardson and William J. Bushaw, "The 48th Annual PDK/Gallup Poll of the Public's Attitudes Toward the Public Schools: Testing Doesn't Measure Up for Americans," Phi Delta Kappan (2015): 20.
About Arkansas Connections Academy
Arkansas Connections Academy is a full-time, tuition-free, virtual public charter school for students in grades K-10 across the state. The school was approved in March 2016 by the Arkansas Charter Authorizing Panel and State Board of Education to begin serving students in grades K-9 statewide in the 2016-2017 school year. Arkansas Connections Academy provides students with the flexibility to learn from anywhere there is an Internet connection and with an innovative online school curriculum that meets rigorous state education standards. The combination of Arkansas-licensed teachers, an award-winning curriculum, engaging electives, technology tools, and social experiences provides a supportive online learning opportunity for students who want an individualized approach to education. For more information, visit ArkansasConnectionsAcademy.com, or call (800) 382-6010.