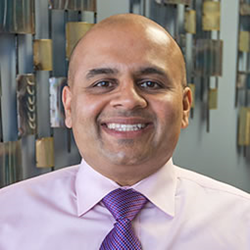 Schaumburg, IL (PRWEB) July 19, 2017
Dr. Jig Patel is pleased to announce openings for new patients who are interested in dental implants in Schaumburg, IL, with or without a referral. Understanding the difficulties that face people who are missing teeth, he offers education about the many benefits patients experience when they choose this permanent alternative to removable dentures and bridges. Not only does an implant improve oral health, it also restores the beauty of the natural smile.
Tooth loss affects over 178 million Americans, according to the American College of Prosthodontics. Dental implants can offer a solution for single or multiple missing teeth and have become the gold standard in tooth replacements. Dr. Patel, and his qualified team at Schaumburg Dental Studio, understand that a missing tooth can cause more damage than just a gap in a smile, which is why they encourage patients to learn the many benefits of dental implants in Schaumburg, IL.
Each implant is anchored by a titanium post placed in the jaw that fuses with the bone and becomes a prosthetic root. Patients who have switched from dentures to implants have reported improved speaking and eating abilities and are no longer embarrassed by the slipping and clicking associated with dentures. Natural tooth roots have a unique function in promoting bone density because chewing motions stimulate new bone growth, maintaining the structure of the jaw. After a natural tooth is lost, the dental implant post acts as a durable substitute, stimulating healthy bone growth and preventing further bone and tooth loss.
Beyond the health benefits of dental implants, Dr. Patel is also able to create in house each replacement tooth restoration, or full-arch denture, with the precision of CEREC® technology. Each restoration is also crafted by analyzing and preserving the beauty of each patient's natural teeth to complete a seamless smile.
Single implants, as well as implant-supported dentures, give patients the freedom to smile with confidence. People who are interested in learning more about dental implants in Schaumburg, IL, can call Schaumburg Dental Studio for a personalized appointment at 847-348-8673. More information is also available on Dr. Patel's website at http://www.schaumburgdentalstudio.com.
About the Practice
Schaumburg Dental Studio is a general and cosmetic dental practice offering personalized dental care to patients in Schaumburg, IL since 2004. With nearly 20 years of experience, Dr. Jig Patel provides cutting-edge care including dental implants, laser gum disease therapy, orthodontics and cosmetic dentistry treatments. Dedicated to his patients, he frequently participates in community charities including the Dentistry from the Heart Program each year. A patient-centered office, the entire team at Schaumburg Dental Studio strives to offer leading-edge treatments using the latest technology while also making them affordable for their community. To learn more about Dr. Patel, Schaumburg Dental Studio or the services they offer visit their website at http://www.SchaumburgDentalStudio.com or call 847-348-8673 to schedule a custom consultation.