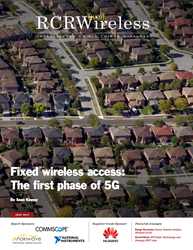 What 5G is doing is making the last hundreds of meters wireless. There's not going to be any DSL, copper or fiber
Austin, Texas (PRWEB) July 20, 2017
RCR Wireless News spoke with experts from National Instruments, Commscope, Anokiwave, Huawei, and more for their views about how 5G fixed wireless access has emerged, particularly in the United States, as the likely first phase of commercial 5G services and how that effects operators, vendors, system integrators, and other telecom value chain stakeholders in their eagerness to launch--and monetize--commercial 5G services.
The report, entitled "Ultra high speed fixed broadband: The first phase of 5G" explores the trials and testing that could ultimately bring multi-gigabit internet speeds into homes and businesses around the world, as well as how consumers and enterprises can leverage this new level of connectivity.
The report also highlights the hardware components of 5G fixed wireless access, the key role of test and measurement in 5G fixed wireless access using high-band spectrum, why fixed wireless access could be a workable alternative to investing in and deploying fiber, why have carriers, particularly in the U.S., taken such a keen interest in 5G fixed wireless access, and how 5G fixed wireless access relates to mobile 5G.
Watch the complementary webinar on this topic featuring

Sean Kinney - Managing Editor, RCR Wireless News
David Wolter - AVP Radio Technology and Strategy, AT&T Labs
Ahsan Aziz Ph.D. - Principal Marketing Manager, National Instruments
Berge Ayvazian - Senior Industry Analyst, Wireless 20/20
About RCR Wireless News
Since 1982, RCR Wireless News has been providing wireless and mobile industry news, insights, and analysis to industry and enterprise professionals, decision makers, policy makers, analysts and investors. Our mission is to connect, globally and locally, mobile technology professionals and companies online, in person, and now on video. Our dedication to editorial excellence coupled with one of the industry's most comprehensive industry databases and digital networks leads readers and advertisers to consistently choose RCR Wireless News over other industry publications. http://www.rcrwireless.com