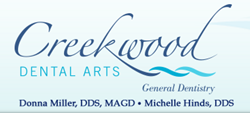 Waco, TX (PRWEB) July 19, 2017
At Creekwood Dental Arts, Drs. Donna G. Miller and Michelle Hinds are pleased to announce the availability of temporomandibular joint (TMJ) treatment and dental implants in Waco, TX, using the latest dental technology for digital imagery and bite measurement. With the TRIOS® intraoral scanner and the T-Scan™ by Tekscan®, they can capture details in the oral cavity for accurate diagnoses and customized care plans. These tools reduce the time spent in the dental chair and eliminate the discomfort of traditional techniques.
Headaches and ear, neck and jaw pain are often symptoms of temporomandibular joint disorder or TMD. This condition affects the jaw joint and the muscles around it. To provide TMJ treatment, a dentist often designs a mouthpiece that prevents a person from engaging in behaviors that worsen the issue, such as grinding or clenching the teeth, particularly at night. In a study published by the American Dental Association old-fashion impressions taken with putty caused gagging in 8% of the participants. Instead of creating an impression of the teeth with messy gel trays or putty, Drs. Miller and Hinds use the T-Scan to identify the pressure points and bite force between the upper and lower teeth. This allows them to ensure that orthotic appliances can be properly balanced and fit for maximum comfort and effectiveness.
When the dentists examine the oral cavity of an individual with missing teeth who wants dental implants in Waco, TX, they now use the wireless handheld TRIOS digital impression scanner to quickly and accurately produce three-dimensional images that both dentist and patient can immediately view on a screen. Not only does this aid in precision for placement, it also contributes to the design and creation of a replacement tooth that is both functionally and aesthetically ideal. In addition to tooth restorations, the dentists can apply this technology to fashion custom porcelain veneers for a bright, even smile.
Anyone in Waco, TX who needs dental implants or TMJ treatment, can visit the Creekwood Dental Arts website at http://www.CreekwoodDentalArts.com to learn more about these and other innovative dental technology systems that Drs. Miller and Hinds use at their practice. Appointments can be made by calling 254-870-9026.
About the Practice
Creekwood Dental Arts is a general dental practice offering personalized dental care to patients in Waco, TX. Drs. Donna G. Miller and Michelle Hinds provide an array of services with state of the art technology. Dr. Miller was honored to receive The Mastership Award from the Academy of General Dentistry, the highest and most respected award in general dentistry. To learn more about Drs. Miller and Hinds or the services they offer, please visit their website at CreekwoodDentalArts.com or call 254-870-9026 to schedule an appointment.