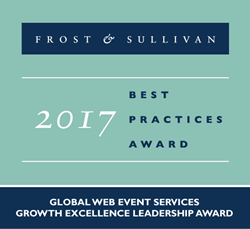 Chicago, IL (PRWEB) July 20, 2017
In a competitive market, Frost & Sullivan believes that INXPO is addressing the emerging needs and trends of the Web Events industry in a way that greatly benefits their customers, and disrupts the way webinars and webcasts are perceived. The Frost & Sullivan Global Growth Excellence Leadership Award recognizes INXPO's innovation, technology improvements and enterprise business advantage.
"INXPO has clearly taken the lead in the market for the transition from Flash to HTML5, providing IT professionals peace of mind when it comes to ease of use, accessibility and scalability," Frost & Sullivan report says.
Along with the migration from Flash to HTML5, another differentiator for INXPO is its platform's strong emphasis on video for value-add communication.
"It's an honor to be recognized by Frost & Sullivan for making video the center of what we do. We believe that live video adds exponential value to messaging across all our solution areas," Ben Chodor, Global Head of Video Strategy at INXPO said.
INXPO supports multiple use cases in an organization - marketing, sales enablement, training and corporate communications, making it the chosen video platform for the enterprise.
According to Frost & Sullivan, "This allows INXPO to lead with a single platform approach for large enterprise customers that are now consolidating purchases and standardizing across departments on a single solution".
For the full analysis of INXPO as the 2017 Growth Excellence Leadership Award winner, and a ranking against other Web Events industry competitors, download the report here. INXPO will also be hosting an industry panel discussion Aug. 10 at 1 pm CT on Disrupting the Video Landscape, diving further into the changing climate of video. Registration for the broadcast is open now here.
About INXPO
INXPO is the video platform trusted by enterprises, built upon a secure, reliable and scalable foundation that has powered thousands of events and touched millions of users. From fully branded webcasts or online events, to enterprise video portals, our versatile products empower our clients to authentically reach their audiences. Built for marketing, corporate communications, sales enablement and training, our technology delivers engaging video experiences. Many of the world's leading brands trust INXPO to extend their reach, drive engagement and maximize ROI while meeting their business goals. Our customers include market leaders such as Aon, Cisco, Hyatt, IBM, Microsoft and several others.
To learn more about how INXPO can fit into your organization's communications strategy contact us at contactus(at)inxpo.com or call us at (312) 962-3708.
About Frost & Sullivan
Frost & Sullivan, the Growth Partnership Company, enables clients to accelerate growth and achieve best-in-class positions in growth, innovation and leadership. The company's Growth Partnership Service provides the CEO and the CEO's Growth Team with disciplined research and best practice models to drive the generation, evaluation and implementation of powerful growth strategies. Frost & Sullivan leverages more than 50 years of experience in partnering with Global 1000 companies, emerging businesses, and the investment community from 45 offices on six continents. To join our Growth Partnership, please visit http://www.frost.com.