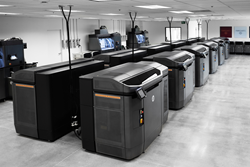 These 12 HP 3D printing units now allow us to handle all kinds of full-production schedules for any type of vertical, and do it with speed, cost-efficiency, and quality that's just not possible anywhere else.
Carlsbad, CA (PRWEB) July 26, 2017
Forecast 3D, one of the oldest and largest privately-held 3D printing service providers in the U.S., today announced the opening of a new 3D Manufacturing Center that makes full-run, large-scale production using HP's groundbreaking Multi Jet Fusion 3D printing technology available for the first time.
Forecast 3D's new 3D Manufacturing Center, a state-of-the-art, 21,000 square-foot facility opening today at its Carlsbad, California headquarters, is powered by 12 HP Jet Fusion 4200 3D printers that, for the first time, provide the capacity for full-run, high-volume production manufacturing using Multi Jet Fusion 3D printing. The combined speed of the Multi Jet Fusion 3D printers makes it possible to produce parts faster than traditional injection mold machines, and in many cases it's also more cost-efficient.
The volume-install of HP 3D printing units greatly scales the production capability of 3D printing, previously limited to prototyping and small-batch production, to an end-to-end Multi Jet Fusion 3D printing solution that goes from design to prototyping to full production in one seamless, cost-effective process.
"We've been among the most ardent supporters of Multi Jet Fusion since it launched, and the positive feedback from our clients has been overwhelming," said Corey Weber, Forecast 3D co-founder/CEO. "That's why we're so excited that our new 3D Manufacturing Center makes us the first company to offer clients a complete, one-stop HP 3D printing solution, allowing us to meet the growing demand for Multi Jet Fusion production and make 3D printing available to an even broader spectrum of companies."
Previously, parts could be designed and prototyped using 3D printing technology, but large-scale production required switching to more traditional manufacturing processes like injection molding, which impose prohibitively high startup costs and frustratingly long lead times.
With the launch of its 3D Manufacturing Center, Forecast 3D now offers a full-process HP 3D printing and manufacturing solution capable of producing over 600,000 end-use production parts per week, further scaling the dramatic time/cost benefits of Multi Jet Fusion and taking 3D printing to an entirely new level.
Adds Weber, "MJF gives us the capability to print an incredible amount of high-quality, engineering-grade parts in a very short period of time, which has transformed the way we think about manufacturing. These 12 HP 3D printing units now allow us to handle all kinds of full-production schedules for any type of vertical, and do it with speed, cost-efficiency, and quality that's just not possible anywhere else. Multi Jet Fusion is shaping the future of manufacturing, and we're very proud to be a part of it."
For more information about Forecast 3D's new Multi Jet Fusion 3D Manufacturing Center please visit: https://www.forecast3d.com/multi_jet_fusion.html