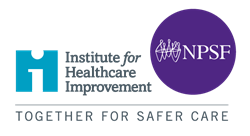 Boston, MA (PRWEB) July 25, 2017
The Institute for Healthcare Improvement, which recently merged with the National Patient Safety Foundation, is pleased to announce that Wellsense has joined the IHI/NPSF Patient Safety Coalition. Wellsense, based in Michigan, is dedicated to the prevention of hospital-acquired pressure injuries.
Each year, more than 2.5 million patients will develop a pressure injury and 60,000 of them will die from complications. Wellsense, creators of a visualization system to help health care professionals see where areas of high pressure exist beneath a patient, is looking forward to working with IHI/NPSF and the other Coalition members.
"We recognize that IHI/NPSF has been committed to expanding the science of safety in health care settings," said Ron Ferber, President and CEO, Wellsense. "Joining the Coalition is a good fit for Wellsense because we share that commitment."
The IHI/NPSF Patient Safety Coalition is an organizational membership program that aligns stakeholders from across health care in a unifying mission of improving patient safety. Membership is open to diverse organizations, including those working to address patient safety challenges, industry, professional associations, advocacy organizations, and others similarly committed. Coalition members gain valuable opportunities for networking, learning, and knowledge-sharing through quarterly webinars, an annual member meeting, special projects and events, and other high-value activities.
"Members of the Patient Safety Coalition share the IHI/NPSF mission of improving health care quality and safety in the US and throughout the world," said Tejal K. Gandhi, MD, MPH, CPPS, Chief Clinical and Safety Officer of IHI. "As we welcome Wellsense, I know I speak for the other members in saying we look forward to learning from their perspectives and experiences."
For more information about the IHI/NPSF Patient Safety Coalition and how to join, contact David Coletta, Executive Director, Strategic Alliances at dcoletta(at)ihi(dot)org.
About Us
The Institute for Healthcare Improvement (IHI) and the National Patient Safety Foundation (NPSF) began working together as one organization in May 2017. The newly formed entity is committed to using its combined knowledge and resources to focus and energize the patient safety agenda in order to build systems of safety across the continuum of care. To learn more about our trainings, resources, and practical applications, visit ihi.org/PatientSafety.
About Wellsense
Wellsense, Inc. is committed to the research and development of cutting edge technologies that provide hospitals with effective solutions to enhance the quality of care, improve safety, engage patients and reduce costs. The company focuses on the elimination of hospital acquired conditions and incidents that impact patient lives. The current mission: zero pressure injuries.