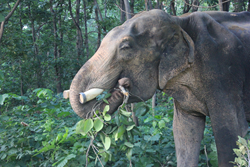 It's important that the public understand that dealing in wild animal body parts is a severe offense.
Uttar Pradesh, India (PRWEB) July 21, 2017
Mohan, once dubbed the "world's unluckiest elephant" before being rescued by conservation group Wildlife SOS (WSOS) last year, saw a bit of with the arrest of two wildlife traffickers in illegal possession of ivory — ivory crudely cut from his own tusks. It's a victory for all wildlife in India that are threatened by the illegal animal trade.
The act of cutting his tusks was just one of the many abuses over decades that Mohan, a majestic 56-year-old elephant, had endured before his rescue last year. For the past 11 months, WSOS been gathering information from informants and surveillance. This information proved valuable to Indian authorities, forming the crux of the arrest.
"We're extremely grateful to the Special Task Force [of the Uttar Pradesh Police and Wildlife Crime Control Bureau] for their cooperation in making this a successful operation," Kartick Satyanarayan, WSOS CEO and cofounder, told the Times of India. "Interrogation of the suspect in custody will provide forward and backward linkages. International and domestic trade in ivory is banned and is a highly punishable offense under Indian law."
A joint operation to arrest the traffickers had been planned by the Wildlife Crime Control Bureau and the Special Task Force of Uttar Pradesh Police using the information WSOS had gathered. The suspects were caught red-handed with nearly 10 pounds of Mohan's ivory, as well as a "country-made pistol and 17 bullets," according to news distributor NYOOOZ.
Aravind Chaturvedi of the Uttar Pradesh Police Department told the Times of India that during interrogation, the suspected admitted that they had illegally held the elephant in captivity and cut off his tusks. "It's important that the public understand that dealing in wild animal body parts is a severe offense," Chaturvedi said.
—30—
For more information, please contact Wildlife SOS USA Communication and Development Specialist John Pecorelli by telephone at 801 / 750-0301 or by email at john(at)wildlifesos(dot)org.
About Wildlife SOS: Wildlife SOS is one of the largest rescue and conservation charities in South Asia, operating 10 wildlife rehabilitation facilities across India, including the world's largest sloth bear rescue center and the recently established Elephant Conservation and Care Center, which is the first in India and currently houses 22 rescued elephants. Wildlife SOS runs a tribal rehabilitation project that aims to create an alternative livelihood for poachers and other indigenous communities that once depended on wildlife for a livelihood. We also run a leopard rescue center, a wildlife hotline in New Delhi and Agra, and Forest Watch, which is an anti-poaching wildlife crime enforcement unit. More information about the organization can be found at http://www.wildlifesos.org. The U.S. branch of Wildlife SOS is based in Salt Lake City, Utah, and received 501(c)3 charity status in 2005.