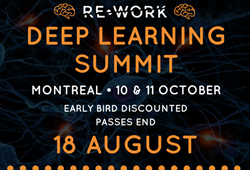 I'm excited that RE•WORK will be organizing for the first time a summit on deep learning in Montreal. The event promises to be a great opportunity for researchers & businesses to connect & plant the seeds for more business opportunities powered by AI.
(PRWEB) July 21, 2017
The Montreal edition of the Global Deep Learning Summit Series will take place on October 10 & 11 with support from key partners; Intel, La Caisse de dépôt et placement du Québec, Power Financial Corporation, Maluuba and other leading institutes.
The event will feature two tracks with both tracks running over 2 days. Track One will hone in on cutting edge science and research in deep learning where we will hear from the likes of Raquel Urtasun, Hugo Larochelle, Richard Zemel, and Aaron Courville, whilst Track Two will be focusing on the business applications with presentations from companies such as Maluuba, Deutsche Telekom, Facebook, Qualcomm and more.
Industries from healthcare and travel to retail and finance are being disrupted by deep learning advancements, and we will hear about its impact on sectors across the board.
Raquel Urtasun, Head of Uber ATG Toronto is a world leading expert in machine perception for self-driving cars, and she will be sharing her research in machine learning, computer vision, robotics and remote sensing. Having won several notable titles including an Amazon Faculty Research Award and three Google Faculty Research Awards, Raquel will discuss her current work and most recent research.
As well as assisting in research, AI and more specifically deep learning is quickly becoming a core technology for businesses to optimize efficiency, but often companies are apprehensive in investing their time and money here due to the need for an abundance of data. Deep learning has been successful at many AI tasks, largely thanks to access to large quantities of labeled data. But what if large amounts of data are unavailable? Humans are able to learn from just a handful of examples, so why can't machines?
Newly announced speaker and Research Scientist at Google Brain, Hugo Larochelle who is leading Google's new AI lab will discuss the problem of generalizing that deep learning faces when it's only supplied with a small selection of data - this is known as meta-learning. He will explore the groundbreaking algorithm that Google Brain are developing and training to overcome this.
"I'm excited that RE•WORK will be organizing for the first time a summit on deep learning here in Montreal. The event promises to be a great opportunity for researchers and businesses to connect and plant the seeds for more business opportunities powered by deep learning and AI." Hugo Larochelle
What problems can deep learning solve in your business? How can it practically be applied in industry?
Find out at the summit and join the likes of Facebook, Google Brain, University of Toronto, Deutsche Telecom, Sightline Innovation and many more companies who have confirmed their place.
Benoit Julien, the Canadian National Research Council's Industrial Technology Advisor spoke to RE•WORK ahead of the event:
"Montreal is privileged to be the world's largest R&D hub in Deep Learning with over 150 researchers involved in projects implicating dozens of local and international high tech companies. NRC-IRAP is proud to support the small and medium size businesses of this fast growing sector. Our involvement in bringing this leading edge conference to Montreal is another demonstration of our strong commitment to help Canadian companies leverage and achieve the full potential of artificial intelligence."
Early Bird passes are available until August 18, register now to guarantee your place at the summit.
Can't make it to Montreal? Join us as our Global Deep Learning Summit Series continues:
Deep Learning Summit, AI Assistant Summit, Deep Learning for Enterprise Summit, San Francisco January 25 & 26. Early Bird available until October 6.
Deep Learning Summit and AI Assistant Summit, London, September 21 & 22. Early Bird available until July 28.
Interested in showcasing your startup?
The event provides the perfect opportunity to demo and showcase the latest AI technology and applications. If you know any innovative new companies working in the field, suggest them here.
Someone you'd like to hear from?
If you know of anyone in the industry who you'd like to hear present their research, you can suggest a speaker here.
Any questions? Get in touch!
Media enquiries:
Yazmin, yhow(at)re-work(dot)co
Ticket queries & event info:
Katie, kpollitt(at)re-work(dot)co
About RE•WORK
RE•WORK is an all-female run events organising company that brings together breakthrough technology, cutting-edge science and entrepreneurship shaping the future of business and society. We showcase the opportunities of exponentially accelerating technologies to positively disrupt industry and society.