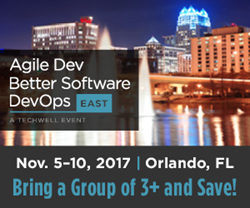 Jacksonville, FL (PRWEB) July 27, 2017
TechWell Corporation, an industry leader in software development conferences and training, has announced the full program for Agile Dev, Better Software & DevOps East. The collocated event will be held November 5-10, 2017 at the Hilton Orlando Lake Buena Vista Hotel in Orlando, Florida.
The week-long conference will feature over 100 learning and networking opportunities and covers a wide variety of some of the hottest industry topics, including: digital transformation, DevOps, continuous delivery, agile and lean development, principles and practices, scaled agile development, agile teams and leadership, personal development, project management, planning and metrics, development, test, and release automation
Concurrent sessions offer attendees the flexibility to follow a specific track or to explore various topics throughout the conference in order to customize their learning experience. Cutting edge presentations include: The NoEstimates Game: Improve Predictability with Less Effort, Microservices and Docker at Scale: The PB&J of Modern Systems, Cultural Intelligence: A Key Skill for Success, Agile Performance Holarchy (APH)—A Model for Scaling Agile Teams, Databases in a Continuous Integration/Delivery Process, and Stop Talking about DevOps: Start Applying Continuous Delivery Practices to name a few.
Agile Dev, Better Software & DevOps East attendees will hear from industry veterans that have been selected to inspire and motivate you, including:

Recipient of Software Development magazine's Jolt Award—Tim Lister
Leading international consultant and trainer—Erik van Veenedaal
CEO and founder of Coveros, Inc.—Jeffery Payne
Founder and owner of nuAgility, LLC—Ray Arell
Owner of training and consulting company, Ineffable Solutions—Damian Synadinos
Author of the popular software testing children's book "I am a Bug!"—Rob Sabourin
VP of automated solutions for Zenergy Technologies—David Dang
CEO/product owner at Scrum.org—Dave West
Agent of change specializing in Agile Transformation—Anthony Crain
The Agile Leadership Summit is available to attendees of Agile Dev, Better Software & DevOps East November 9-10, 2017. The program chair and facilitator is Bob Galen, who will be guiding group sessions to maximize the learning and impact to your greatest challenges. With twenty-five years of in-the-trenches practical leadership experience, Bob is an enterprise and leadership agile coach for Zenergy Technologies, and a Scrum Alliance trainer for the Certified Agile Leadership program.
The conference will also feature the Expo where you can meet one-on-one with representatives from some of today's most innovative organizations. Explore the latest solutions, technologies, and tools in software development.
For more information and to access the full conference program, visit https://bsceast.techwell.com
ABOUT TECHWELL CORPORATION:
TechWell—through its conferences, training, consulting, community websites, and online resources—helps people and organizations develop and deliver great software. For more information, visit http://www.techwell.com.