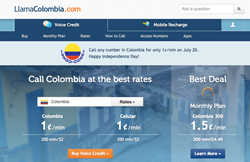 Excellent way to call Colombia. Easy website to navigate and no hassles of trying to find the best card at the gas station. Simple - fast - buying time. (Kevin Callaway on Trustpilot)
Atlanta, Georgia (PRWEB) July 20, 2017
LlamaColombia.com, the platform dedicated to Colombians abroad, launches 2 new great opportunities for its customers: a special rate of only 1¢/min for calls to any number in Colombia, on July 20, 2017 (EST), and $10 calling credit for international calls as the prize of a Facebook contest. In order to benefit of the special rate, one needs to have a PIN from the website, which is automatically received on one's first Voice Credit order on the website.
The contest is open until Monday, July 24, and what participants need to do is post a comment answering the question "What's the first thing that comes to your mind when you think about Colombia?" All comments enter the competition for $10 Voice Credit with LlamaColombia: https://www.facebook.com/LlamaColombia/. The winner will be chosen randomly.
The prize credit never expires and brings 344 international minutes to call Colombia, or a different amount for other destinations on the website. Calling is a flexible service on LlamaColobia.com:
-For those who want to call friends and relatives in Colombia without using any Internet connection, there are access numbers.
-Those who prefer using an app and making calls that resemble local calls in terms of dialing experience, the KeepCalling app is available for free on App Store and Google Play.
The 65% OFF promotion on calls to Colombia is valid on July 20 and is dedicated to all 2,6+ million Colombians registered outside their motherland borders, no matter where they live. The anniversary rate is 1¢/min for all calls to both mobiles and landlines.
The best rate to call Colombia outside this promotion is using the monthly plan Colombia 1000. The unique rate is 1¢/min. The plan includes 1000 international minutes to both mobiles and landlines in Colombia at $12.99/month. But there are also other options, like Colombia 500 at only $6.99/month, or Colombia 300 at $4.49/month.
Voice Credit comes with extras that cost nothing extra:
-One can check transactions and account activity at any time.
-There are calling features one can activate in seconds for a customized calling experience.
-Support is available on the website and its Facebook page, in Spanish and English.
Customers point out more advantages of this service on review platforms like Trustpilot:
-On every purchase, one receives loyalty points that can be converted into calling credit that costs nothing.
-The lowest purchase can be $2 for low budgets or new customers who want to try the service.
-There are no hidden fees.
-Call quality is superior to other services on the expat market.
-No contract is needed and no administration fees apply.
-Balance can be bought online very easily, in only a few seconds seconds.
Besides Voice Credit that helps one save big money on international calls, LlamaColombia.com also makes available a service called Mobile Recharge that facilitates mobile credit transfers from country to country.
LlamaColombia.com is a website dedicated to Colombians overseas and anyone who calls or sends mobile credit to Colombia. The platform is a brand of KeepCalling, with more than 10 years of experience on the global market. The mother company is a telecommunications business registered in 2002 in the USA, listed by Inc 5000 as one of the fastest growing companies in the USA for 5 consecutive years. Presently, KeepCalling provides its services to hundreds of thousands of consumers, with a focus on customer satisfaction.