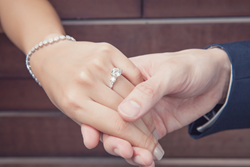 "We've seen an increasing number of customers coming in with completely false ideas about the value of their jewelry... We want to save people from disappointment."
New York, New York (PRWEB) July 22, 2017
With the advent of the internet and smartphones, it's easier than ever to sell your diamonds and fine jewelry. Unfortunately, it's just as easy to be disappointed by the selling experience as it is to make the sale. Fima Kandinov, certified appraiser of Luriya.com, a New York-based company that buys and sells diamonds, gold, and fine jewelry, shares with potential sellers how to have a satisfying diamond-selling experience that gets you the best price, headache free.
"There's a lot of misinformation about selling your diamond jewelry on the internet that gives people unrealistic expectations," says Kandinov. "We've seen an increasing number of customers coming in with completely false ideas about the value of their jewelry, and feeling crushed when they don't get the price they were hoping for. We want to save people from disappointment."
Fima says there are four steps you can take in advance that will help ensure you're getting the best price when selling your diamonds in NYC.
1. Have the diamond evaluated by the GIA. The Gemological Institute of America (GIA) is the most respected and trusted gemological laboratory in the world. Getting a GIA certificate for your diamond gives you the information you need to get the highest offer. "Without the certificate, a diamond dealer may claim that the stone's color, clarity, or cut is worse than it actually is," says Fima. "If you have an independent, industry recognized laboratory providing you the details of your diamond, you eliminate the risk of a buyer or dealer taking advantage of you."
2. Understand the purpose of an appraisal. An appraisal is a jeweler's opinion on the retail replacement value of the diamond that is mainly used for insurance purposes. "For a satisfactory diamond-selling experience, you need to understand that an appraisal is an indicator of retail value, not resale value," says Kandinov. "A buyer isn't going to pay retail value for a second-hand diamond ring. Retail prices include overhead expenses associated with selling the ring, plus the profit margins the store needs to stay in business."
3. Calculate the estimated resale value of the diamond. You can calculate a reasonable estimate for the resale price of your diamond based on the appraisal. "A reasonable estimate would be around 50-70% of its current retail price," says Kandinov. By accurately calculating the price yourself, you'll have a working understanding of how much your diamond is worth, thus, eliminating the likelihood of rudely getting ripped off.
4. Find the right diamond buyer. Having an honest, candid, and experienced diamond buyer can make all the difference in your diamond-selling experience. "Search for companies with an outstanding rating on the Better Business Bureau and check reviews of Google+ and Yelp when making your choice," says Kandinov. "Also, be sure the company is certified and uses equipment certified by New York State." Fima also notes that you should be sure that the buyer's policy includes an actual estimated price; some companies will offer exaggerated estimates for marketing purposes only.
About Luriya.com
Luriya.com buys, sells, and, trades precious metals and gems of all kinds, from loose diamonds and diamond jewelry, to gold coins and luxury watches. Located on 47th street in the heart of Manhattan's Diamond District, Luriya has been dealing with precious metals, diamonds, and fine jewelry for the past 20 years. Their mission is to provide customers seeking to buy or sell gold, diamonds, or fine jewelry items with the best prices and customer service possible. For more details:
Visit: http://www.luriya.com
Call: 212-256-0025
Email: info(at)Luriya(dot)com
Facebook: https://www.facebook.com/luriyacom