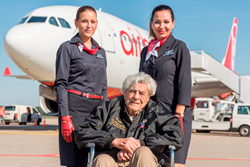 Miami, Florida (PRWEB) July 20, 2017
The crew of flight AB7211 from Miami to Berlin-Tegel had a very special guest on board: James "Maggie" Megellas. The retired U.S. Army Lieutenant Colonel celebrated his 100th birthday in March. He took part in the liberation of Berlin during the Second World War. During his 80s, the former paratrooper wrote the best-selling autobiography, "All the way to Berlin. A Paratrooper at War in Europe". He has now accepted the invitation from the Federal Minister of Defence, Ursula von der Leyen, to attend this Thursday's Ceremonial Swearing-In of German Army soldiers. Megellas is visiting the capital until Sunday, before taking an airberlin flight back home to the US. Megellas lives in Texas with his wife Carole. They have two sons and five grandchildren.
About airberlin
As one of Europe's largest network airlines, airberlin focuses on extremely frequent domestic flights and on services between a number of major European cities and its Berlin-Tegel and Dusseldorf hubs, from where the airline also operates long-haul flights to the US, Caribbean and the Middle East. airberlin carried approximately 28.9 million passengers in 2016 and its fleet is among the most modern and eco-efficient in Europe. airberlin is a member of the oneworld® airline alliance, co-founder of Etihad Airways Partners and a strategic partner of Etihad Airways, which has a 29.21 percent share in airberlin. topbonus, the frequent flyer programme of airberlin, has more than 4.3 million members.
Press contact:
Melanie Schyja
Press Officer
Tel.: +49 30 3434 1500
Fax: +49 30 3434 1509
Email: melanie.schyja(at)airberlin(dot)com
http://www.airberlin.com
http://www.facebook.com/airberlin
On behalf of airberlin
Madeleine Vogelsang
Media Relations Representative USA & Canada
Phone: 1-917-971-6213
Email: mvogelsang(at)zcomgroup(dot)org