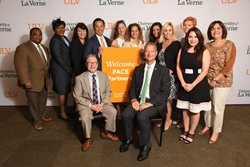 We want every high school student in Southern California to know that an education from a distinguished private university is within their reach, - Devorah Lieberman
La Verne, Calif. (PRWEB) July 20, 2017
Eleven additional school districts have partnered with the University of La Verne to expand what was already one of Southern California's largest initiatives to ensure that students have access to a high-quality, affordable college education.
The Partnership for Access to College Education (PACE) launched in January with the university, a dozen public school districts, and a private high school. It has now grown to encompass 23 districts that house nearly 100 high schools and serve more than 383,000 students per year. Those districts stretch from Montebello to Palm Springs, and from Kern County to the Jurupa Valley.
The program promises qualified students from the districts a pathway to the University of La Verne that includes:

Guaranteed admission
Guaranteed financial aid of at least $10,000 per year
Application fee waivers
And a range of programs to assist with college readiness and the application process
"We want every high school student in Southern California to know that an education from a distinguished private university is within their reach," University of La Verne President Devorah Lieberman said. "We look forward to working with our PACE partners to support these students and guide them on their paths to success."
Officials from the 11 new districts came to the university on July 20 for a ceremony to celebrate the partnership.
New PACE partners are: Arcadia Unified School District, Azusa Unified School District, Baldwin Park Unified School District, Bassett Unified School District, Charter Oak Unified School District, Claremont Unified School District, Hacienda La Puente Unified School District, Jurupa Unified School District, Palm Springs Unified School District, Project BEST (Black Excellence in Scholarship and Teaching)/Kern High School District, and St. John Bosco High School.
About half of the students who attend the University of La Verne are the first in their families to go to college. About 75 percent of first-time freshmen come from within 50 miles of the university.
About the University of La Verne
Founded in 1891 and located 35 miles east of Los Angeles, the University of La Verne is a private, nonprofit, comprehensive institution founded on four core values: lifelong learning, ethical reasoning, civic and community engagement, and diversity and inclusivity. The University of La Verne serves nearly 8,400 students on the historic La Verne location as well as across 10 Southern California regional campuses.