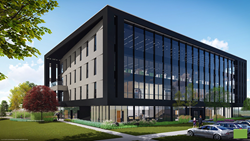 "This is an investment and commitment to the community in which we do business." - John Sorrell, President and CEO of Core Bank
Omaha, NE (PRWEB) July 21, 2017
On Thursday, July 20, 2017, Core Bank held a groundbreaking ceremony at 178th and Burke streets with its board of directors, leadership and city leaders in attendance to announce the construction of its new headquarters.
The location will serve as Core Bank's headquarters for its Omaha and Bellevue branches, along with its new loan production office in Overland Park, KS. The allotted space will consolidate portions of the 24,000 square feet of space Core Bank is currently occupying around Omaha and allow for more growth over the next ten years.
"This is an investment and commitment to the community in which we do business," said John Sorrell, President and CEO of Core Bank. "It will create synergies and efficiencies for our company and customers."
Core Bank's new headquarters will have four floors totaling 60,000 square feet upon completion. The lobby will house the company's eighth Omaha metro bank branch, which will serve as its main branch. The second and third floors will provide office space for corporate and non-branch employees, as well as banking business units within business lending, construction, mortgage, cash management, and trust services. The fourth floor will be leased out to a third party yet to be determined.
"This new space allows us to continue what we've been working on for the last several years," Sorrell said. "This sets us up for a ten-year plan for growing our presence and expertise in Omaha and expansion in other Midwest markets, and allows us to invest in our team and employees by providing them with a productive, secure work environment designed with collaboration in mind."
Core Bank's vision is to be a truly remarkable company that just happens to be a bank, and as such, the company is developing its headquarters with that vision in mind. The new location will focus on innovative and interactive technology for employee and customer use. Other amenities will include a workout room available for employees as part of the Core Bank Wellness Program, a specialty coffee shop, and a community space open to public and Core Bank events.
Core Bank is a full-service community bank focused on meeting clients' banking needs with personal, business, healthcare, mortgage, construction, and trust services. The company is expected to move into its new headquarters at 17807 Burke Street in fall 2018.
For more information about Core Bank and its banking services, visit corebank.com.