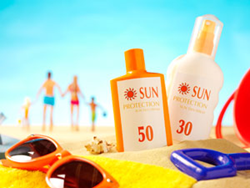 Keeping the customer base safe and well informed is a great role for a business to take on, and UV Safety Month is a good opportunity to do so.
Denver, CO. (PRWEB) July 25, 2017
The sun is shining, the beaches are open - July is a month of outdoor fun, mixed with the danger of too much ultraviolet exposure. This is why UV Safety Month takes place during July, representing a chance for companies to heighten an important health message for their customers. Businesses that make relevant items, from sunscreen to lip balm, can highlight the dangers of UV exposure through custom labels.
Multiple Relevant Products
Leaders pondering whether their items would be good candidates for specialized labels during UV safety should simply ask whether the items offer any sort of protection from the sun's rays. If so, timely and relevant labels and stickers are a great choice. Since the sun doesn't stop shining on August 1, these can stay in use all summer.
Sunscreen is a great candidate for custom labeling, of course. Lip balm labels also make great places to print UV-awareness messages for customers. People who see the warnings on these common items will keep the risks of sun exposure in mind as they enjoy their summer getaways.
A sunglasses decal can also serve as a way to deliver valuable information about UV exposure. Brands can opt to use clear ultra removable stickers instead of more adhesive-based stickers to ensure there is no residue once the sticker is removed.
Finding a Labeling Partner
When it's time to create eye-catching stickers that warn consumers about the serious risks of UV exposure such as Melanoma, that's where Lightning Labels can help.
"We're always happy to help brands get the word out about health risks," said Lightning Labels Director of Business Development AnneMarie Campbell. "Keeping the customer base safe and well informed is a great role for a business to take on, and UV Safety Month is a good opportunity to do so."
Due to its use of all-digital printing methods, Lightning Labels' turnaround times are remarkably quick - this means it's not too late for brands to launch UV Safety Month labels.
About Lightning Labels:
Lightning Labels uses state-of-the-art printing technology to provide affordable, full-color custom labels and custom stickers of all shapes and sizes. From small orders for individuals to the bulk needs of big businesses, Lightning Labels is equipped to handle and fulfill custom label and sticker projects of all types. Best of all, like the name implies, Lightning Labels provides a quick turnaround for every customer's labeling needs. Uses for Lightning Labels' custom product labels and custom stickers include food packaging and organic food labels, wine and beverage labels, bath and body labels, and nutraceutical products, such as vitamins, essentials oils, and herbal remedies, as well as event stickers, adhesive window stickers and more. Lightning Labels strongly supports the development of environmentally friendly printing materials and carries EarthFirst PLA, a new kind of green label material made from corn instead of petroleum. While operating as a high-tech printer, Lightning Labels prides itself on its personalized customer service. Lightning Labels provides one stop shopping for all of your custom label needs. For more information and to place orders online, visit LightningLabels.com. For the latest in packaging news and labeling promotional offers, find Lightning Labels on Twitter (@LightningLabels), Facebook, Pinterest, Google+ and LinkedIn.