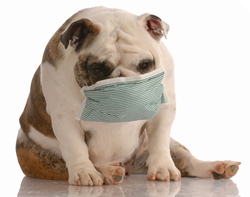 Canine flu is a serious illness. ...August is peak season, so now is the time to act.
Wilton, CT (PRWEB) July 22, 2017
Canine influenza is on the rise again. The highly contagious respiratory infection causes coughing and fever, and sometimes leads to pneumonia in dogs.
"Canine flu is a serious illness. Pet parents need to know what it is, what steps they can take to protect their dogs, and how to deal with the disease if it strikes," says Renee Coughlin of Canine Company. "August is peak season, so now is the time to take action."
Much like the human flu, canine flu spreads when an infected dog sneezes or coughs, spraying virus into the air and surroundings. The virus can survive in the environment for days, so a dog can pick up the disease from a contaminated surface without ever being in direct contact with the carrier.
That's why pets are most likely to be infected at places where other dogs congregate -- especially day care, grooming and boarding facilities. The risk increases during summer vacation months and holiday season because more dogs are packed into close quarters at kennels. Routine cleaning isn't sufficient to eradicate the virus.
While the canine flu virus was identified more than a decade ago, new strains of the virus have evolved in the past few years so even dogs previously exposed are at risk, notes Coughlin.
The symptoms of canine flu include high fever, coughing, loss of appetite and lethargy, and can last for two to three weeks. There are no drugs to treat canine influenza; the illness must run its course. While most dogs recover, 10 to 15 percent end up with pneumonia. Puppies and older dogs are at greatest risk.
Coughlin encourages pet parents to be proactive to protect their pets and prevent spread of the disease. She recommends the following:

Avoid social situations such boarding kennels and doggy daycares during peak flu season, because the virus can spread rapidly through a group. Consider in-home pet sitting or dog walking, especially if your pet is in a higher-risk group.
Ask your veterinarian about your pet's risk factors and whether the available vaccines are a good option. There are two vaccines – one for each strain of the virus -- available that may help prevent, or reduce the severity of, infection. Annual boosters are needed to maintain protection.
If your dog shows flu symptoms, get him to the vet promptly for assessment and treatment. And, if he is diagnosed with canine flu, keep him away from other dogs for at least three weeks so he doesn't spread the infection.
About Canine Company
Born of a family's love for dogs, Canine Company provides at-home services to keep pets healthy, safe and happy. The company serves families across New England, New York and New Jersey with the Invisible Fence® brand systems, Manners dog obedience training, and provides mobile grooming and pet sitting in select markets. Its charitable Canine Gives campaign supports pet rescue groups and donates pet oxygen masks to first responders. For information, visit http://www.caninecompany.com or call 800-818-3647.