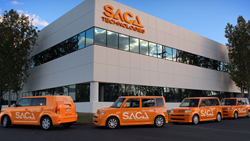 We intend to continue the tradition of 'service with sincerity' and provide even more choice and support to their customers.
Anaheim, California (PRWEB) July 27, 2017
SACA Technologies Inc., the leading IT services provider, today announced that they have successfully completed the acquisition of Advanced Computer & Networking Technology Inc. (ACNT), adding to their portfolio of companies and strengthening their core service offerings.
ACNT has been a specialist provider of computer components, peripherals, repairs and servers since 1994. They provide onsite IT support on a per incident or monthly basis out of seven locations across California.
ACNT has been providing products and services to businesses, schools, retailers and consumers in California for more than two decades because they focused on providing "service with sincerity," a formula that has driven their success and won them lifelong fans.
The CEO of SACA Technologies, Alexander Saca, commented, "At SACA, we focus on partnering with the brightest and best in the business, which allows us to provide our customers with the best-in-class services they need. ACNT has deep experience custom building PCs and servers for specific business and niche use cases. This focus on specialization to customers' needs is part of what makes ACNT exceptionally good at what they do and we are proud to continue that tradition. ACNT has been serving their community for close to three decades. A generation of Californians grew up using ACNT and they have an incredibly loyal base of customers. We intend to continue the tradition of 'service with sincerity' and provide even more choice and support to their customers."
Over the next 12 months, SACA will be integrating the ACNT business into their own, rebranding ACNT to match the core SACA brand and consolidating its store estate into a centralized customer support operation hub to reflect the growing needs of the ACNT customer base.
Throughout this process, SACA will be working closely with ACNT customers to ensure that they are satisfied and aware of any changes that SACA is making in the process.
ABOUT SACA TECHNOLOGIES INC
SACA is a global provider of managed IT services, IT support and hosted IT based out of Anaheim, California. For more than two decades, SACA has been providing hosted desktops, servers and applications from their own custom-built datacenters and working with their customers on a partnership basis, acting as their IT department when needed. SACA is a group of companies consisting of SACA Technologies Inc., Iron Orbit Inc., Cloudsurance Inc. and SuitesPro Inc.