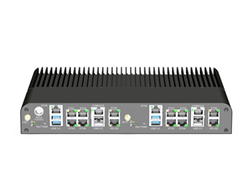 IAS has pioneered a way to build multiple platforms around a single, certified module running Aruba's VMC software, and our customers appreciate the flexibility this approach provides them."
Turnersville, NJ (PRWEB) July 24, 2017
Information Assurance Specialists Inc. (IAS) has partnered with Aruba Networks, a Hewlett Packard Enterprise Company, to develop three new products in view of the National Security Agency's Commercial Solutions for Classified (CSfC) program.
All three products, The IAS Router MICRO Extreme, the IAS VPN Gateway Module CLASSIC, and the IAS Converged Communications Edge Services Router-2S (CCESR-2S) implement the Aruba Networks Virtual Mobile Controller (VMC) virtual machine version of Aruba's Mobile Controller product.
"As CSfC solutions move from the traditional enterprise campus out to mobile and tactical locations where size, weight, and power restrictions become critical, our customers have a need for purpose-built hardware solutions.  As a smaller engineering-focused company, IAS has pioneered a way to build multiple platforms around a single, certified module running Aruba's VMC software, and our customers appreciate the flexibility this approach provides them," said Jon Green, Sr. Director, Security Architecture at Aruba Networks.
"I am very proud of our technical team for their work with Aruba in the development of these three new Aruba VMC based CSfC product offerings. Our ever expanding CSfC targeted product portfolio demonstrates to the US Government and DOD customer base that IAS is the premier technology developer in support of customers' CSfC IP networking applications," said Keir Tomasso, President of IAS.
Integrating the Aruba VMC with IAS products brings the capability of the Aruba VMC to the tactical edge of DOD and Government networks, where traditional rack mount equipment is much too large and power hungry. Additional benefits of the new IAS and Aruba Networks products include:

IAS Router MICRO Extreme: A small form factor enterprise class Aruba Mobile Controller, for use in applications where small size, light weight, low power and high performance are critical customer mission requirements.
IAS VPN Gateway Module CLASSIC: An embeddable IAS VPN Gateway Module, that offers the Aruba Mobile Controller capability, that can be integrated into 3rd party hardware applications at the PCB level and retain its NSA CSfC Component List compliance.
IAS CCESR-2S: IAS's third small form factor Dual VPN Gateway/Single Device offering that targets NSA's Multi-Site Connectivity Capability Package, where the Aruba VMC is paired with an IAS Router MICRO.
For more information on IAS' CSfC product line please visit http://www.iaspecialists.com.
About Information Assurance Specialists
Located in Turnersville, NJ, Information Assurance Specialists (IAS) designs and manufactures software and hardware based IP networking router solutions for the commercial and defense markets. As NSA Commercial Solutions for Classified (CSfC) experts, IAS delivers secure, enterprise-level products that meet the most stringent mission requirements where ruggedization, security, size, weight, and power are critical. The company also provides a full range of specialized support services in the form of custom design engineering, engineering support, and COMSEC and INFOSEC segment consulting. IAS products are already trusted by government agencies including the Department of Defense, Federal Bureau of Investigation, National Security Agency, the National Security Council, Executive Office of the President and many others. For further information on IAS products and services line, please visit http://www.iaspecialists.com.
About Aruba, a Hewlett Packard Enterprise company
Aruba, a Hewlett Packard Enterprise company, is a leading provider of next-generation networking solutions for enterprises of all sizes worldwide. The company delivers IT solutions that empower organizations to serve the latest generation of mobile-savvy users who rely on cloud-based business apps for every aspect of their work and personal lives. http://www.arubanetworks.com/