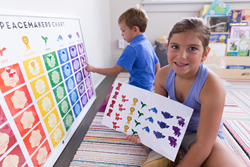 "Kids aren't born knowing how to regulate their emotions any more than they are born knowing how to tie their shoes," says Suzanne Tucker, Founder of Generation Mindful.
ST. LOUIS, MO (PRWEB) July 21, 2017
"Kids aren't born knowing how to regulate their emotions any more than they are born knowing how to tie their shoes," says Suzanne Tucker, Founder of St. Louis-based positive education company Generation Mindful. To help with that daunting task, she has created the Time-In Toolkit, which launches on Kickstarter on Monday, July 24th.
The kit uses colorful, engaging and educational illustrations and games to teach children how to name, express, and regulate their emotions and behaviors. Posters that read "How Am I Feeling?" invite children to name and express their emotions. Calming cards and coloring pages with statements like "close your eyes" and "hug a stuffed animal" get kids thinking and talking about what helps them regain control when they feel upset. There's also a sticker chart that works with Tucker's flagship PeaceMakers card game (also included), to track which cards kids have pulled and get them eager to pull more cards.
PeaceMakers nurture mindfulness and compassion, connecting children and adults in a wide range of settings. The aim of the cards and the kit is the same: To help adults connect with kids, replacing time-outs, clip charts, and other punitive discipline strategies with positive techniques rooted in mindfulness and play. The result is an increase in emotional intelligence and children who can increasingly regulate their emotions.
"Research tells us that time-outs don't work in the long run because they don't teach the child how to regulate themselves. The Time-In Toolkit helps parents and educators allow for the wide range of emotions we all feel, especially the challenging ones." says Tucker. "The tools make naming and expressing emotions fun, teaching kids instead of punishing them when they act out or feel upset." Tucker continues. "Many of us as adults have never been taught how to do this. Fortunately, emotional intelligence is not something we are born with so much as it is something we learn. With practice, tools and support we can all improve our social and emotional skills."
The Time-In Toolkit is available via Kickstarter for over 30% off the retail price through August 25th. It includes a deck of PeaceMakers cards, a 24" x 36" PeaceMakers Chart with 35 inspiring mantras and 35 resealable stickers, a set of My Calming Strategies coloring pages, a set of My Calming Strategies cards, and a 24" x 36" Feelings Posters, along with two instructional manuals titled "Creating A Calming Corner" and "Using Time-Ins". To learn more, visit kck.st/2tu96gg.
About Generation Mindful: Generation Mindful was founded by in 2016 by physical therapist, mom of four, and parent educator Suzanne Tucker. The idea for the company came when graduates from her positive parenting classes were asking for ideas to help them connect with their kids, especially when they were feeling overwhelmed and stressed. Tucker saw a need to help adults move more practically (and playfully!) into the art of connecting with their kids.
Generation Mindful offers tools, toys and programs to connect the generations (playfully!), nurturing the human spirit. The company's goal is to leave each person they serve feeling more seen, more connected, more supported... more enough. Present to themselves, the ones they love, and the little moments of life.
About Suzanne Tucker: Suzanne Tucker leads regular Infant Massage and Positive Parenting classes in St. Louis, Missouri where she and her husband have a holistic outpatient rehabilitation center. A physical therapist, parent educator and mom of four, Suzanne is also the founder of My Mommy Manual, an online community inspiring parents to "look inside themselves for instructions."
Facebook: http://www.facebook.com/genmindful
Instagram: http://www.instagram.com/generationmindful
Twitter: http://www.twitter.com/gen_mindful