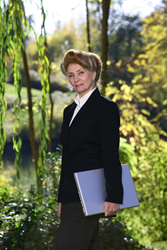 Grants Pass, OR (PRWEB) July 21, 2017
Sharon Kleyne is proud of the fact that in recent weeks Nature's Tears® EyeMist®, the signature product of her research center at Bio-Logic Aqua Research® Water Life Science®, has been released in China, the country with the world's largest population and the greatest number of sufferers of blindness. "We think that Nature's Tears® EyeMist® will contribute to eliminating preventable blindness," said Kleyne, "which has been such a scourge on Chinese health since the Peoples' Republic of China came into existence in 1949."
Recent UN studies show that China accounts for 18 percent of the world's blind population, by far the leader among all countries worldwide. Major causes of blindness in China include cataract, cornea diseases, trachoma glaucoma and several causes (such as an ongoing vitamin A deficiency) of blindness in children. At this time, cataracts are the main cause of blindness in China. Mainly a disease associated with aging, cataracts are responsible for fifty percent of the nation's blind—close to three million people.
Blindness in China is not only a health and social problem; it is an economic problem as well. Government statistics suggest that blindness costs China between fifteen and twenty billion dollars a year in lost productivity. Exacerbating this issue is the fact that forty to fifty percent of annual blindness cases are preventable. In 1984, the Chinese Ministry of Health created a series of five-year plans to provide cataract surgery throughout the country. Under this plan 600,000 cataract surgeries were performed between 1991 and 1994. Still, because of China's rising population over age 60 (in 2020, it is estimated that 240,000 million Chinese will be 60 or older), the government projects that 5 million people will be blind in 2020 due to cataracts.
"This has prompted an inspired global response," said Kleyne, "spearheaded by the World Health Organization." A WHO Alliance for the Global Elimination of Trachoma (GET 2020) was established in 1997, which constitutes an integral part of Vision 2020. This alliance includes non-governmental organizations playing an ever greater role in prevention of preventable blindness in China. Presently, 12 NGDOs actively collaborate with WHO and the Ministry of Health and support eye care delivery in 19 of the 31 provinces in China. Among them (in alphabetical order):
Amity Foundation (China)
Asia Foundation for the Prevention of Blindness (Hong Kong, China)
Christoffel-Blindenmission (Christian Blind Mission International (CBM), Germany)
Foresight (Australia)
Foundation for Eye Care Himalaya (The Netherlands)
The Fred Hollows Foundation (Australia)
Helen Keller International (USA)
The Lions Club International (USA)
ORBIS International (USA)
Singapore National Eye Centre (Singapore)
Seva Foundation (USA)
Tibet Vision Project (USA)
These NGDOs have agreed to work together within Vision 2020 towards the common goal of eliminating preventable blindness in China by 2020.
Kleyne, host of the nationally syndicated The Sharon Kleyne Hour Power of Water, Global Climate Change and Your Health on VoiceAmerica sponsored by Nature's Tears® EyeMist® looks forward to ever greater progress against blindness in China as that target date draws near. "With three years to go," said Kleyne, "I am optimistic that this great alliance can achieve its goal. We must do all we can to restore and maintain the precious gift of sight as many people as we can in China and all around the world."