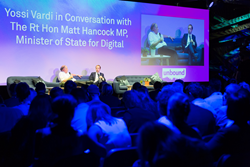 A need for greater openness and partnerships is even being felt in our most venerable institutions – the banks – which are starting to acknowledge the need to work within a shared ecosystem.
(PRWEB UK) 21 July 2017
This year's unbound London has been the company's biggest show in Europe to date with delegate numbers growing by 25 percent year-on-year. More than 5,000 visitors from over 30 countries made the journey to the Old Truman Brewery in Brick Lane to hear how some of the world's most successful brands are embracing technology innovation to unlock new commercial opportunities.
The event brought together 120 speakers from across multiple sectors to cover markets ranging from fintech to retail. The conference packed 30 sessions across the main stage and the popular Future Stage by Stylus over the course of two days (19-20 July). A truly eclectic agenda covered everything from immersive live video and socially conscious innovation, to trend spotting and how advertisers can take advantage of gameshow theory. The festival also ran a series of workshops, startup battles and other challenges.
One of this year's most anticipated speakers was Bruce Daisley, EMEA Vice President, at Twitter. His 'big idea' session 'Eat Sleep Work Repeat – Can we win the battle vs. work' took a hard look at contemporary workplace culture. In what was a very timely examination in the wake of controversies surrounding tech-led firms, he pointed to the damage a company's internal 'tone' can inflict upon its external brand.
He characterised the blurring of the lines between our personal and professional lives as 'geekploitation', characterising food freebies and games in the office as 'red herrings' that are actually hindering productivity. Daisley also singled out open plan offices as being detrimental to efficiencies and creativity, particularly in forcing people to isolate themselves with headphones: "If you look into the way that ideas are created, headphones are probably one of the worst things to happen to the working environment in the past ten years."
A late addition to the agenda came in the shape of the Rt. Hon. Matt Hancock, Minister of State for Digital. Hancock outlined how the government intends to ensure the UK remains the best place in the world to build and grow a technology business. The session addressed concerns raised by several founders over the course of the conference – access to the best international talent in the wake of last year's referendum. The minister highlighted he felt Britain has been most successful when it has been "open to new ideas" and pointed to initiatives such as the Tech Nation visa scheme. He went on to reassure delegates that Brexit negotiations are unambiguous in their aspiration to secure ongoing engagement and trade with the EU, while the government also aspires to build relationships on a global scale.
New for 2017 was the Female Founders Startup Challenge in which eight finalists pitched to be named Europe's top female entrepreneur, and a prize worth over £4,500. This went to Daniella Peri of Yoppie, a company that offers organic, biodegradable tampons.
This year's StartUp Bazaar exhibition featured almost 100 companies from 28 countries, including delegations from Italy and Romania. A further 50 European businesses earned a complimentary exhibition space in the new unbound50 zone, which featured the most exciting early-stage start-ups as selected by unbound.
Vertical markets represented in the exhibition included AI and Data, FinTech, Internet of Things, AR & VR, Retail and E-Commerce, Media, Adtech and Marketing. Some of the companies generating the most buzz in the StartUp Bazaar included doppel and Sidekick Health. Sensik's demonstration pod also attracted a lot of attention over the course of both days as curious delegates lined up to discover what Sensory Reality (SR) has to offer.
Daniel Seal, founder and CEO of unbound, said: "It's been another exciting festival and the message that digital disruption means no business can afford to stand still came across louder than ever. There's a very real risk that legacy organisations in all vertical markets face being disintermediated by more nimble startups.
"Historically both sets of players have been cautious in how they engage with each other, however as time moves on we're reaching a point where the benefits of mutual collaboration are becoming apparent. A need for greater openness and partnerships is even being felt in our most venerable institutions – the banks – which are starting to acknowledge the need to work within a shared ecosystem. The fact that even this most conservative of sectors is having to evolve so quickly highlights the extent to which data is shaping our world."
Ends
unbound will return in Q4, with the next festival moving west to focus on the Latin American market. The inaugural unbound Miami takes place on 1st & 2nd November, for more information on that event, including the latest speaker updates, please visit https://unbound.live/ and follow us on Facebook and Twitter @unboundglobal
Notes for editors
A selection of images from the event can be downloaded here: https://www.dropbox.com/sh/v8qrvmytlopzj3a/AABT9ZUHSNfW7bGsL6qE2XNna?dl=0
Press contact
Andy Riley, PR(at)unbound(dot)live
About unbound London
unbound London is the UK's largest and most exciting innovation festival. It celebrates its fifth anniversary in July, and in that time has established itself as more than just another tech event. It is a celebration that captures the energy and fun of Europe's start-up scene, having built up a supportive and inclusive community that makes it a greatly anticipated fixture in the calendars of thousands of brands, corporates, founders and entrepreneurs.
https://unbound.live/london2017/ #unboundLondon
About unbound
unbound connects brands and corporates with disruptive technology, products and services, in order to fuel their innovation and growth. unbound works across three key areas: Labs, Insights and Festivals. Over 18,000 founders, entrepreneurs, investors, brand executives, start-ups and opinion formers will attend the award-winning unbound festivals in 2017. For more information, please visit http://www.unbound.live or follow on Facebook & Twitter, @unboundglobal.