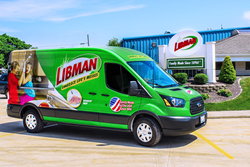 Arcola, Ill. (PRWEB) July 24, 2017
The Libman Company, a leading U.S. manufacturer of household and commercial cleaning products, is taking to the highway for a second straight year with its 10-week "Embrace Life's Messes" Tour that will travel to 171 retail locations in over 20 U.S. cities this summer, including the Houston area from July 26 through July 30. The company will offer tips and product demos as well as give away prizes during the retail store visits to encourage consumers to embrace life's messes by letting Libman help do the work.
The team of Libman brand ambassadors will stop at 18 Houston-area stores over the course of three days and will spend 90 minutes at each store to demonstrate a few of Libman's 350 cleaning products. Additionally, consumers can choose to play a trivia game or spin a wheel to win various Libman prizes. For those unable to make it to the stores, they can go to http://www.embracelifesmesses.com for a chance to win a Libman Wonder® Mop in the "Spin to Win" online sweepstakes. The "Embrace Life's Messes" tour's Houston schedule is as follows:
Wednesday, July 26
10:30AM – Kroger – 11003 Shadow Creek Pkwy, Pearland, TX 77584
1:00PM – Kroger - 1938 W Gray St, Houston, TX 77019
3:00PM – Kroger - 1440 Studemont St, Houston, TX 77007
5:00PM – Kroger - 1801 S Voss Rd, Houston, TX 77057
Thursday, July 27
11:00AM – Kroger - 8011 West Grand Parkway South, Richmond, TX 77407
2:00PM – Kroger - 25050 Farm to Market 1093, Richmond, TX 77406
5:00PM - Lowe's - 19935 Katy Fwy, Houston, TX 77094
Friday, July 28
10:30AM – Kroger - 2301 Rayford Rd, Spring, TX 77386
1:00PM – Kroger - Kroger Marketplace, 25651 Us Hwy 59 N, Kingwood, TX 77339
3:00PM – Kroger - 3410 Northpark Dr, Humble, TX 77345
5:00PM - Lowe's - 7355 FM 1960, Humble, TX 77346
Saturday, July 29
10:30AM – Kroger - 20355 Cypresswood Dr, Cypress, TX 77433
1:00PM – Kroger - 9703 Barker Cypress Rd, Cypress, TX 77433
3:00PM – Kroger - 1352 W 43rd St, Houston, TX 77018
5:00PM - Kroger - 1035 N Shepherd Dr, Houston, TX 77008
Sunday, July 30
10:30AM - Kroger – 24350 Kuykendahl Rd, Tomball, TX 77375
1:00PM – Kroger - 18518 Kuykendahl Rd, Spring, TX 77379
3:00PM - Lowe's - 19580 TX-249, Houston, TX 77070
About The Libman Company
The Libman Company is a family-owned company that has been making quality cleaning tools since 1896. The company manufactures products from brooms and mops to more specialized tools for kitchen and bathroom cleaning and industrial uses. Libman proudly manufactures most of their products in the United States, including the company's well-known Wonder® Mop. For more information about the Libman Company, please visit http://www.libman.com.