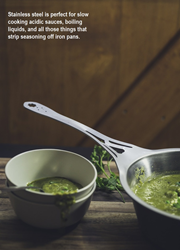 The response from backers on Kickstarter has been amazing, and we know they're going to love cooking with nöni their whole lives….they will never need to replace it.
SYDNEY, AUSTRALIA (PRWEB) July 21, 2017
With 38 days left in the crowdfunding campaign on Kickstarter, backers have pledged more than $170,000 to support the launch of nöni cookware – the world's first seamless one-piece stainless steel cookware.
New backers can still take advantage of special early-bird pricing until July 26th, where they will receive First Edition production at a reduced price, along with an earlier delivery date.
"We knew we had something special, but the response from backers on Kickstarter has been amazing, and we know they're going to love cooking with nöni their whole lives….they will never need to replace it," said SOLIDteknics Founder and Development Engineer Mark James Henry. "With the multi-century durability of our one-piece nöni pans you're not just buying cookware, but also a treasured family heirloom that will be loved for many generations to come."
Henry says that's one reason the company engraves the manufacturing date on every nöni pan.
nöni are high-performance chef pans wrought in one piece in Sydney from exotic German stainless – noted for its highly conductive, induction-compatible, non-nickel ferritic stainless (not the more common non-magnetic austenitic). nöni features handles that are integral with the pan body, with no rivets, welds, screwsmor fragile clad layers – and each lid doubles as a high-performance flat skillet for grilling.
Their patent-pending, seamless one-piece construction makes SOLIDteknics nöni pans so tough that they come with a multi-century warranty – another first in the world of cookware.
nöni Features:

World-first Seamless One Piece wrought Stainless Steel construction
Rivet, Weld and Screw Free
Versatile Lid/Skillet Feature
Soakable and Dishwasher Safe
Conductive ferritic (non-nickel) German stainless
Works on Induction
Durable and Hygienic
Vented Heat-dissipating Handles
While some may question the business model of selling a product only once, Henry notes that his team aren't marketers, but engineers who cook.
"As a keen home cook, it was always frustrating to invest in a high quality sauce pan or skillet and have it warp or the handle come loose so you're forced to throw it away and purchase another pan," he said. "Restaurant chefs are also destroying pans regularly. With nöni, we not only eliminate that frustration shared by cooks around the world, but nöni users are also being environmentally responsible by eliminating all those traditional multi-part and disposable nonstick pans from ending up in landfills around the world."
The introduction of nöni represents SOLIDteknics tenth crowdfunding campaign, after nine successful Kickstarter campaigns featuring innovative iron cookware.
For more information and to pre-order, visit the nöni Campaign Page on Kickstarter.
About SOLIDteknics
Mark James Henry has a background in the metal trades, mechanical engineering and business degrees, and a string of patents, long history of innovation and brand development, including Innovivant, Füritechnics, Füri knives and Diamond Fingers sharpeners. SOLIDteknics nöni pans are patent pending with tooling complete, pre-production samples exciting the experts, and production ready to go. For more information, visit http://www.solidteknics.com.