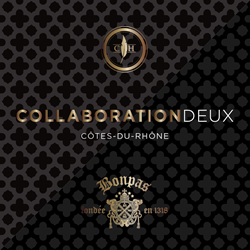 "Collaboration Deux has furthered my friendship with Tim and my respect for the amazing Wine Club he's created," says Jean-Charles. "This is a wonderful example of Franco-American cooperation and innovation!"
Chicago, Illinois (PRWEB) July 21, 2017
Cooper's Hawk Winery & Restaurants, a lifestyle dining brand and home to the largest wine club in the U.S., announces today its latest wine collaboration with Jean-Charles Boisset of Boisset Collection, one of the world's leading family-owned luxury fine wine companies. The exclusive production wine, Collaboration Deux, a Côtes-du-Rhône from the family's Bonpas winery near Avignon, France, was created for the Cooper's Hawk 250,000-plus member Wine Club as the "Wine of the Month". A full-bodied wine with well rounded tannins, this 115,000-barrel blend can be sampled across all 29 Cooper's Hawk tasting rooms and restaurants during August. The Côtes-du-Rhône wine marks the second collaboration between Cooper's Hawk and Jean-Charles and the Boisset family.
The partnership marks another step forward in Cooper's Hawk Founder & CEO Tim McEnery's stated purpose of enriching peoples' lives by providing access to elevated food and wine experiences.
"Collaborating with visionaries like Jean-Charles creates enormous value for the Cooper's Hawk brand," says McEnery. "The Boisset family is committed to uniting the old and new worlds of wine, and bringing this elegant blend to our Wine Club Members perfectly exemplifies our mission. We look forward to future endeavors with our friends at Boisset Collection."
Bonpas is located in the southeast region of the Rhône Valley, which boasts an ideal climate for the Grenache and Syrah grapes that dominate the blend (which also includes Carignane, Mourvedre and Cinsault). The result is richly colored, full-bodied and loaded with aromas of blackberry, cherry, chocolate, plum, vanilla and baking spices. As with the majority of Cooper's Hawk wine blends, it's balanced for drinking now, but will age well for four to six years.
For the last 12 years, Cooper's Hawk has been breaking new ground by actively collaborating with tastemakers from the wine and culinary industries, furthering its quest to expose Wine Club Members to new and unique wines and winemakers. The company produces a limited-production wine for Wine Club Members every single month, and has collaborated with luminaries like Tyler Florence, Fabio Viviani, Gail Simmons and others.
"Collaboration Deux has furthered my friendship with Tim and my respect for the amazing Wine Club he's created," says Jean-Charles. "This is a wonderful example of Franco-American cooperation and innovation!"
The Bonpas/Cooper's Hawk Côtes-du-Rhône will be celebrated on Tuesday July 18th at The Monte Bello Estate in Lemont, IL with a private multicourse dinner and wine pairing, one of the benefits accessible to Cooper's Hawk Club Members.
About Boisset Collection
Boisset is a family-owned collection of historic and unique wineries bound together by a common cause: authentic, terroir-driven wines in harmony with their history, their future and the land and people essential to their existence. With more than twenty-five historical and prestigious wineries in the world's preeminent terroirs, including the Côte d'Or, Beaujolais, Rhône Valley, California's Russian River Valley and the Napa Valley, each house retains its unique history, identity and style, and all are united in the pursuit of fine wines expressive of their terroir. To learn more about the Boisset Collection, please visit http://www.boissetcollection.com.
About Cooper's Hawk Winery & Restaurants
Redefining the modern casual dining experience, Cooper's Hawk is an unparalleled combination of restaurant, winery, Napa-style tasting room, and artisanal retail market. The innovative concept partners with some of the best grape growers in the world to craft the award-winning Cooper's Hawk wine collection. Additionally, Cooper's Hawk is the American winery with the largest Wine Club, a life-style driven monthly affiliation offering exclusive wines, events, and privileges to its 250,000+ members.http://www.chwinery.com