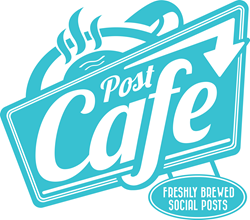 This is just the beginning of how Post Café is delivering value in such a crowded market
(PRWEB) July 24, 2017
Post Café, a social media content publishing service for small businesses, announced it is adding an integration with LinkedIn, the largest social platform for professionals. The new addition provides a valuable option for clients, creating more unique opportunities to share branded content.
Post Café is a groundbreaking subscription service that features engaging articles for companies to supplement their social media marketing efforts and connect with clients. Originally focused on Facebook and Twitter, Post Café has expanded its package line-up to include LinkedIn for small businesses and professionals, such as Real Estate agents.
Since launching in May 2016, Chris Mulvaney, CEO of Post Café is excited to add LinkedIn to their lineup so quickly. "Now with over 500 million users, LinkedIn is easily the number one social network when it comes to generating social referrals and conversions," said Mulvaney. "This integration allows industry leaders to share content across multiple channels, gaining new leads and satisfying the emerging demands for quality, buzzworthy content."
Established as an evolving content platform, Mulvaney and his team continue to brainstorm new ways to help businesses better address the outcomes of their social media efforts. In addition to LinkedIn, Post Café also recently added the ability for businesses to track post engagements and strategically analyze how followers and clients are interacting with posts. "This is just the beginning of how Post Café is delivering value in such a crowded market", said Mulvaney. "Our dedication to continued innovation is what sets us apart."
About Post Café
Post Café is a groundbreaking social media and content service, spun off from CMDS (http://www.cmdsonline.com), one of NJ's leading branding agencies. Dedicated to providing simplified social media for busy professionals, Post Café helps business owners find the time and resources to amplify their social media presence, through relevant, branded content.
How's it work? Professional, in-house writers publish industry-relevant articles on a personally branded website hub, For Sale Guides. The subscriber has access to a dashboard where they can view upcoming posts and chose the articles to automatically post on their brand's social media accounts (Facebook, Twitter and/or LinkedIn). They can skip posts or cancel at any time. The user gets full credit on the hub and a boosted social media presence to build a strong online reputation.
Post Café invites realtors to sign up for a free trial using promo code: FREETRIAL and start posting immediately . http://www.post.cafe/realtors