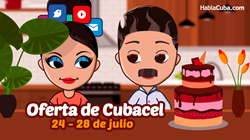 The generous Cubacel bonus will be back on HablaCuba.com between July 24-28, 2017.
Atlanta, Georgia (PRWEB) July 21, 2017
Since summer is such a busy fun time, lots of plans and experiences need to be shared with our loved ones. Cuban expats worldwide will be happy to know they will receive more calls and texts from their friends and family in Cuba because they can now send them a lot of mobile credit for free. Why? Because a new Super Bono promotion is in town!
The generous Cubacel bonus will be back on HablaCuba.com between July 24-28, 2017. As they already know by now, customers get the best value for their money with HablaCuba: a maximum bonus of 90 CUC. Every recharge between 20 CUC and 60 CUC is rewarded with a Super Bono, as follows:

For 20 CUC recharges, customers will send 50 CUC
For 30 CUC recharges, customers will send 60 CUC
For 40 CUC recharges, customers will send 100 CUC
For 50 CUC recharges, customers will send 110 CUC
For 60 CUC recharges, customers will send 150 CUC
And that's not all! Customers can also get a free top up of 50 CUC by participating in a contest on HablaCuba's Facebook page. All they need to do to enter the competition is post a comment describing the best prank they can think of. The contest runs until July 25, 2017 right here: https://www.facebook.com/HablaCuba/
The winner of the competition will be chosen randomly. He/she will receive a 20 CUC recharge that will benefit from the Super Bono promotion as well, so the final amount of the prize will be 50 CUC. The contest is open by July 25 and everyone is invited to participate.
After sending a recharge with HablaCuba, customers can let their family and friends in Cuba know that they will receive a top up gift from them through a free text message. With each recharge, HablaCuba is offering customers an SMS that they can send to the number they are recharging.
HablaCuba also rewards customers with an extra bonus for each of their orders. Customers receive 2% of the value of the purchase in Thank You points. Whenever customers reach 1,000 Thank You points, they can convert them into $10 Voice Credit that they can use to call Cuba at no cost at all. The standard rate to call Cuba with HablaCuba is 69.9¢/min.
Thank You points can also be gained by referring the service to a friend: if a customer sends his referral code to a friend and his friend opens an account and places an order, the customer will receive 500 points.
About HablaCuba
HablaCuba.com is a service platform for Cubans abroad and a brand of KeepCalling, a global telecommunications company registered in 2002 in USA. Presently, KeepCalling provides its services to hundreds of thousands of consumers , with a focus on customer satisfaction. KeepCalling was listed by Inc 5000 as one of the fastest growing companies in the USA for 5 consecutive years.