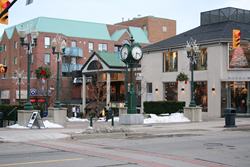 The Oakville area is such a booming location for small businesses
Oakville, ON (PRWEB) July 26, 2017
Chartered Professional Accountants Fabio Campanella and John Paul McDonald announce the grand opening of the new location for Campanella McDonald LLP in the heart of Oakville Ontario at 233 Speers Road, Unit 1, Oakville, Ontario, L6K 0J5. "We feel that the central location in Oakville will provide a convenient access point to our already growing client base in the Oakville, Toronto, Mississauga, and Burlington regions" said partner Fabio Campanella.
Oakville accountants Campanella McDonald LLP are a full-service accounting firm specializing in small business owners, professionals such as physicians and dentists, and real-estate investors. The firm provides clients will a full suite of professional services including: Assurance and accounting, taxation services, Scientific Research and Experimental Development credit consulting, along with business valuation services and general business consulting. Fabio Campanella is the firm's lead tax partner and John Paul McDonald is the firm's lead assurance partner.
"The Oakville area is such a booming location for small businesses" said John Paul McDonald. "We chose Oakville due to the rich relationships we have been able to develop with local business owners, professionals, and investors over the years." "We couldn't be happier with the convenient location and high-quality construction of our new offices." added Fabio Campanella
John Paul and Fabio have been working together since 2010. "It has been a very good complement of talents and experiences," said Campanella. "John Paul brings a great depth of knowledge in accounting, tax, and financial mechanics for entrepreneurs, real estate developers, and start-up companies. My range of experience covers various industries, multinational corporations, not-for-profits, major financial institutions and professional athletes. More recently I have focused on tax and wealth advisory for self-employed professionals and owner-managed businesses. We enjoy our respective arenas and our vision is to stay accessible and always hands-on for our clients."
About Campanella McDonald LLP
Campanella McDonald LLP is a boutique accounting services firm under the direction of Chartered Professional Accountants Fabio Campanella and John Paul McDonald. Each partner has a rich background of experiences in the finance arena, and they specialize in Assurance, Advisory and Tax advice for owner-managed enterprises. They also have strategic partnerships with professionals in insurance, law, banking and real estate to complete their portfolio of services.
Contact Information:
Fabio Campanella, CPA, CA, CFP, CIM
Campanella McDonald LLP
233 Speers Road, Unit 1
Oakville, Ontario, L6K 0J5
1 289 813-0097
info(at)cmllp(dot)com