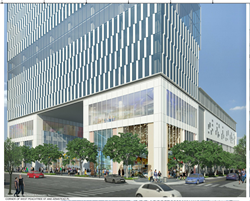 Atlanta, Georgia (PRWEB) July 25, 2017
Next Tier HD, a private real estate development company headquartered in New York, NY (http://www.nexttierhd.com), has concluded an agreement with DataBank (http://www.databank.com) to develop and lease a 'next-generation,' high-performance computer center (the"HPCC") in Midtown Atlanta.
The HPCC is part of the larger Coda development located in Technology Square (http://Codatechsquare.com) that includes a 645,000 square foot office tower that is being separately developed by Portman Holding. Both the office tower and the adjoining HPCC are being anchored by Georgia Institute of Technology ("Georgia Tech"), which now has 5 engineering departments that rank among the top 2 programs nationwide, and 10 that fall within the top 6 ranks.
The design of Coda was driven by Georgia Tech's vision for a public/private collaboration to extract new technologies and businesses from rapidly growing pools of research data. Researchers working in the adjacent office tower will have direct, high speed fiber links to Georgia Tech's latest fleet of super computers located in the HPCC, proprietary applications and datasets, as well as the on-site expertise of Georgia Tech's academic community.
Georgia Tech's Real Estate Director, Tony Zivalich, offered, "In late 2015, we ran a national competition for a data center developer and selected Next Tier HD because of their experience in building highly advanced mission-critical  facilities, and their ability to reduce technically complicated concepts  to simple, elegant designs. Next Tier HD's team has already proven to be every bit as resourceful as we hoped, and we all look forward to the final results."
 
As part of the venture with DataBank, Next Tier will manage the HPCC's development through completion, while directly assisting DataBank on marketing and leasing. DataBank, a leading owner/operator of mission-critical data center facilities nationwide, will manage and operate the HPCC while providing the larger Coda community a host of IT services including – colocation, managed services, cloud, IP, optimized connectivity and security.
According to Jim Coakley, Next Tier's HPCC Project Director, "Combining the high-compute infrastructure of the HPCC with a robust research community and proprietary datasets, is a long overdue recipe for accelerating innovation. While the concept is straight forward, the development has been our most complicated undertaking to date, and the most fun. We commend Georgia Tech for their vision, and are fortunate to have DataBank on board to bring this vision to reality."
About Next Tier
Next Tier HD, led by Jim Coakley, Kevin Reardon and David Spiewak was formed in 2012 to acquire and develop commercial and data center properties that serve the enterprise and academic communities. With offices in New York, Washington and Boca Raton, Next Tier, and its affiliates, controls over 1.8 million square feet of office and mission critical projects.
About DataBank
DataBank is a leading provider of enterprise-class data center, cloud, and interconnection services, offering customers 100% uptime availability of data, applications and infrastructure. DataBank's managed data center services are anchored in world-class facilities. Our customized technology solutions are designed to help customers effectively manage risk, improve their technology performance and allow them to focus on their core business objectives. DataBank is headquartered in the historic former Federal Reserve Bank Building, in downtown Dallas, TX. For additional information on DataBank locations and services, please visit http://www.databank.com or call 1(800) 840-7533.
For Further Information Contact:
Jim Coakley, james.coakely(at)nexttierhd(dot)com, Cell: (202) 246-5034