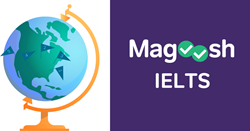 Berkeley, Calif. (PRWEB) July 25, 2017
In a move to give more non-native English speakers access to English-aptitude exam preparation, Magoosh, the foremost leader in online GRE prep, released a premium version of its first-ever IELTS study program today. Magoosh IELTS prep was designed by the company's renowned test-prep staff and includes more than 90 video lessons, 200 practice questions with video explanations, and email assistance from expert tutors. The program, which costs $49 for six months of access, provides students an opportunity to study for the exam at a fraction of the cost of what other companies offer.
The IELTS, or the International English Language Testing System, can be taken by up to 2.2 million non-native English speakers each year, according to The British Council. The exam serves as a way for non-native English speakers to demonstrate their English skills. Students whose first language is not English often submit an IELTS score when applying to universities in English-speaking countries. By expanding into IELTS prep, Magoosh hopes to be able to help more students perform well on the exam.
"The IELTS almost always represents an important step towards a much larger objective such as getting into graduate school or landing a dream job overseas," said IELTS curriculum manager Eliot Friesen. "My hope is that Magoosh IELTS prep will be an important tool for many students as they strive to achieve their goals."
The new IELTS program is the second product Magoosh has created for non-native English speakers. It joins Magoosh's TOEFL prep in the company's list of affordable resources for students preparing for English-aptitude exams. Magoosh released its TOEFL program in 2014 to help students prepare for the Test of English as a Foreign Language, which is also accepted at universities in English-speaking nations, but is most commonly used in the U.S.
In addition to its IELTS prep, Magoosh also offers free support and advice to non-native English students on its IELTS and TOEFL blogs. Students can also get on-the-go prep with Magoosh's free mobile apps for iOS and Android, such as the TOEFL Speaking app, released earlier this year.
For more information on Magoosh IELTS, visit: https://ielts.magoosh.com
About Magoosh
Magoosh is an online test-prep company based in Berkeley, Calif. Founded in 2009, the company is dedicated to making exam preparation more affordable and accessible for all. The Magoosh team creates web and mobile study apps to help students prepare for standardized exams like the GRE, GMAT, LSAT, SAT, ACT, MCAT, TOEFL, IELTS and Praxis. They've helped prepare more than two million students in over 185 countries around the world and have been featured in The New York Times, The Wall Street Journal, Inc. Magazine and Financial Times.