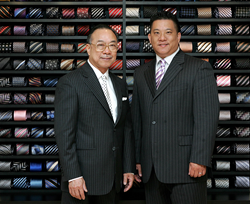 Los Angeles, CA (PRWEB) July 21, 2017
Jimmy Au (http://www.jimmyaus.com/) commemorated the first year anniversary of his store's move from Beverly Hills to Sherman Oaks with a huge sale.
Jimmy Au's "For Men 5'8" and Under" is the first, and still the only, designer clothing store for short men in the United States. The store is specifically designed with the shorter client in mind, making for a more enjoyable and comfortable shopping experience.
Au's opened at 14755 Ventura Blvd. in Sherman Oaks in Los Angeles' San Fernando Valley on the July 4th weekend of 2016. It settled into the 4,700-square-foot space after a decade of working out of a 3,200-square-foot space at 9408 Brighton Way in Beverly Hills, CA.
Jimmy Au's has been an entertainment industry secret since 1982. Because of the height enhancing qualities of the Jimmy Au Collection, it is the preferred wardrobe choice of the television and film industry when it comes to fitting short actors and celebrities. Frequenters of his store include acclaimed filmmaker Mel Brooks, comedic actor Jack Black, legendary ice skater Scott Hamilton, and many more.
As the owner of largest short men's clothing store of any kind in the nation, Jimmy Au is a pioneer and leader in the design and development of clothes for smaller and shorter men - and with this new expansion, Au has added bigger short sizes. Previously carrying up to extra large, the collection has expanded to carry up to triple extra large (3XL) with a four XL model in development.
"I've been in this business for a long time now, and have found this whole experience to be very rewarding," says Jimmy. "It's comforting knowing there's no limit to fashion."
Following the celebration, Alan Au stated he's "really looking forward to seeing [their] store's success continue to grow in the coming years."