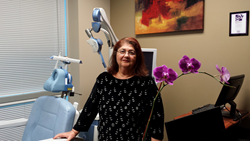 We are delighted to have Dr. Rapoport join our TheraMind team of highly qualified professionals and look forward to helping our patients in the Roseville-Sacramento corridor, said Mark Heatwole, President, TheraMind Services, Inc.
(PRWEB) July 25, 2017
TheraMind Services, Inc. is please to announce the opening of its newest California location in Roseville, CA under the medical direction of Dr. Elena Rapoport. The TheraMind Center--Roseville offers an integrative psychiatric practice specializing in non-invasive, non-drug depression therapy and other behavioral health issues such as PTSD, Anxiety Disorders and OCD, using transcranial magnetic stimulation therapy (TMS or rTMS). Dr. Elena Rapoport studied medicine at the prestigious Pavlov Medical University in St. Petersburg, Russia receiving her medical degree in 1977. She went on to practice medicine for fourteen years in St. Petersburg before moving to the United States. Dr Rapoport obtained her medical license in the United States in 2003 after completing her medical residency at the Howard University Hospital in Washington, D.C. Dr. Rapoport has spent a major part of her career working with underserved populations, performing adult community psychiatry services in multiple outpatient settings throughout California. In 2015 Dr. Rapoport launched her private practice in Roseville, CA providing treatment for the full spectrum of psychiatric disorders and specializing in the cutting-edge treatment of depression and anxiety using Transcranial Magnetic Stimulation Therapy. The TheraMind Center – Roseville is conveniently located near the Kaiser-Permanente Medical Center in the heart of Roseville in a new professional office building with ample parking and easy handicapped access.