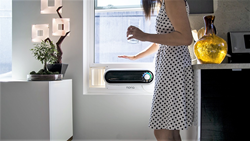 Noria is a window air-conditioner unlike any you've seen before. –The Huffington Post
Philadelphia, PA (PRWEB) July 22, 2017
Noria Technologies, the innovative home comfort company behind the Noria W5, the slim, connected, window-air-conditioner that Tech Insider called "The solution to air conditioners we've all been waiting for" has signed an exclusive manufacturing agreement with Sichuan Changhong Electric Co. (Changhong), a leading supplier of consumer electronics in Asia.
Launching in 2018, the Noria W5 brings functional, beautiful, and simple design to the window air conditioner to deliver a form factor that is safe and easy to install and that preserves the user's view from their window. As Cool Material wrote, "In addition to being the easiest air conditioner to install in the history of the device, Noria has a single knob for temperature regulation that allows advanced scheduling via an app for both iOS and Android". The Noria W5 will also work with Alexa® and Google Home®.
"Our design vision needed a capable and innovative manufacturing partner to make it a reality." said Kurt Swanson, CEO of Noria Technologies. "Changhong, with its vast experience in the air conditioner market, outstanding facilities, and dedicated team of researchers and engineers has been a fantastic partner to us."
Changhong has worked closely with Noria Technologies to develop this first-of-its-kind air conditioner. Since collaborating in early 2017, Noria Technologies and Changhong have worked together to deliver big performance in a small package and have innovated the way window air conditioners are designed and manufactured.
"The Noria W5 is a unique air conditioner with a design that users are passionate about and that we are excited to add to our growing portfolio of connected and IoT-enabled devices," said Mr. Gary Tu, CEO of Changhong North America. "Along with Noria Technologies, we look forward to bringing the Noria W5 to the world and changing the way people look at their window air conditioner."

- - - - - - - - - - - - - - - - - - -
About Noria Technologies, Inc.
Noria's goal is to reinvent the home comfort market worldwide with beautifully designed products that users love while delivering better performance to both individual users and the grid. Noria Technologies was founded in Philadelphia, Pennsylvania by a team of experienced engineers who have been developing the Noria W5 window air conditioner since 2012. For more information, please visit http://www.noriahome.com.
About Sichuan Changhong Electric Co., Ltd.
Established in 1958, Changhong has been the top manufacturer of TVs in the Chinese market for 18 consecutive years. It has witnessed significant growth and is now one of the largest Chinese consumer electronics and home appliances providers specializing in R&D, manufacturing, and marketing of a variety of products including TVs, refrigerators, air conditioners, mobile phones, electronic components, and more. In 2016, the annual turnover of Changhong was USD 17 billion and the brand value was more than USD17.8 billion. Based on "smart strategy" industrial ecosystem, Changhong released its brand proposition "Make Your Imagination Fly", and concentrates on improving three major smart systems: Smart Platform, Smart Control System, Smart Applications, and aims to build comprehensive solutions for the smart home, smart community and smart city.