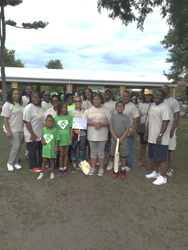 "These persons demonstrate heroic efforts every day and deserve our support."- Jim Comer, IMA's President and CEO
SOUTHFIELD, Mich. (PRWEB) July 24, 2017
Integrated Manufacturing & Assembly (IMA), a joint venture between Comer Holdings LLC and Lear Corporation supplying automotive seat subassemblies and seating systems, will sponsor the 3rd annual Autism Hero Family Walk hosted by the Autism Alliance of Michigan (AAoM) at the Detroit Zoo on Sunday, July 30, 2017.
The annual event allows AAoM, sponsors and the autism community in Michigan to celebrate true heroes — individuals and families affected by Autism Spectrum Disorder (ASD), providers and doctors, parents and grandparents, siblings and friends. Families will be able to enjoy a scenic 1-mile walk through the Detroit Zoo, live entertainment, games, arts and crafts and photo opportunities with dozens of super hero guests. At the event's Autism Resource Fair, more than 20 local service providers will provide valuable resources and information to attending families.
Jim Comer, IMA's President and CEO, stresses the importance of this corporate and community partnership: "Giving back to our communities where we live and operate has been and will remain a pillar of our culture at IMA. We are proud to support the Autism Alliance of Michigan's Autism Hero Walk for a third consecutive year. Furthering education and support for families and the community-at-large is crucial. These persons demonstrate heroic efforts every day and deserve our support."
Michigan is home to more than 60,000 individuals living with ASD. The annual event allows AAoM and sponsors to raise funds for crucial programming in the State of Michigan. More than $200,000 in funds have been raised to date.
Dr. Colleen Allen, President and CEO of AAoM on the relationship between AAoM and its sponsors: "Autism Alliance of Michigan is excited to partner with the Detroit Zoo for the 3rd annual Heroes Walk, honoring families living with autism. Working with AAoM, the Detroit Zoo received the AAoM safety seal of approval this past year, creating an inclusive, safe, venue for individuals with autism. Additionally, we will recognize our top sponsors (DTE, Lear, and Ford) who are not only supporting the event, but have taken significant steps to employ adults with autism into their workforce. We invite the broader community to come out and celebrate with us."
Registration opens at 7:30 a.m., the opening ceremony begins at 8:30 a.m., the walk starts at 8:45 a.m. and the event concludes at 11:30 a.m. The event is free to all participants.
About IMA:
Integrated Manufacturing & Assembly (IMA) and Advanced Assembly, joint ventures between Comer Holdings LLC and Lear Corporation, are leading suppliers of automotive seating systems and seat subassemblies for a variety of vehicle manufacturers and automotive suppliers. Operating since 2006, IMA and Advanced Assembly generate more than $1 billion in sales annually and employ a diverse team of approximately 1,600 people in six manufacturing locations across the U.S. With an enduring commitment to giving back, IMA and Advanced Assembly and their employees remain focused on initiatives that provide for people and enhance development of the communities where they operate.
About Autism Alliance of Michigan:
The mission of Autism Alliance of Michigan is to lead collaborative efforts across the state that will improve the quality of life for individuals with autism through education, access to comprehensive services, community awareness, inclusion efforts, and coordinated advocacy.